Padma Bridge: A landmark of overwhelming courage
BI Report || BusinessInsider
Published: 21:58, 24 June 2022 Update: 16:07, 25 June 2022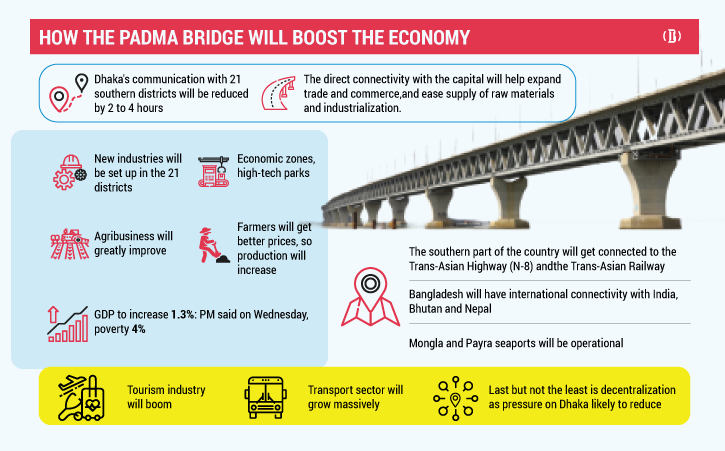 Graphics: Business Insider Bangladesh
Padma Bridge is a tale of a nation emerging from adversities. It is an ode to a people with tremendous valour, daring to dream big against all odds. This structure will forever remain a monument dedicated to the courage of a nation.
When the World Bank cancelled its $1.2 billion loans for the Padma Bridge project at the end of June 2012, blaming that it has proof of corruption involving high-level Bangladesh officials, there was a lot of hue and cry and uncertainty about the implementation of the project.
Later, the Asian Development Bank, Islamic Development Bank and Japanese JICA also followed the WB and pulled themselves out of the project.
Global lenders' withdrawal from funding the project based on unauthenticated corruption allegations had made many people heartbroken, but not Prime Minister Sheikh Hasina. Just a day after the WB's withdrawal, PM Hasina announced that her government would build this pride project with Bangladesh's own money. Also, this time, some people had raised their eyebrows and questioned how the government would arrange so much money.
But Sheikh Hasina was adamant to construct the bridge as it would connect 21 south-western districts of Bangladesh with the capital city Dhaka, port city Chattogram and other parts of the country. Finally, the construction work of the bridge began in December 2014 and the government has spent Tk 30,193 crore, equivalent to $3.86 billion, to construct the 6.15-km-long bridge, the largest in the country.
A photo taken on Tuesday shows a general view of the Padma Bridge. Photo: Business Insider Bangladesh
Now the bridge is a reality and awaits a formal opening on June 25 as announced by Roads and Bridges Minister Obaidul Quader on Tuesday. Why did Sheikh Hasina's government take the challenge to make the bridge happen? What was her philosophy? How will the bridge contribute to the economic development of the country? Will it boost industrialisation and employment in the southern districts of the country? Or, will it be used just to cross the River Padma?
Let's see how the 6.15 km-long bridges can be a game-changer for Bangladesh.
Boosting economic activities in 21 districts
Transportation will be easier for the businesses as the connection from Dhaka to port cities will decrease significantly. Factories, hospitals, universities and housing facilities are expected to be set up in these districts.
According to a different analysis, hotel businesses in Barisal, shipwrecking industries in the two seaports, and liquified natural gas stations (LNG) industries are likely to be established after the opening of the bridge analysis. More multinational industries may be interested to set up business here as the country's labour cost is cheaper than many countries.
For agribusiness, delivery will be a lot faster cutting costs on storage and guaranteeing product quality. Real estate businesses will expand.
According to BSCIC officials, around 500-1,000 factories of various categories are projected to be established in areas surrounding Barisal. Factories are also expected to be built in Faridpur, Madaripur, Shariatpur, Bagerhat, Gopalganj, and Khulna.
Barisal Chamber of Commerce estimated that over Tk 10,000 crore investments will come within 10 years of opening the bridge.
Benefitting existing industries:
When both road and rail routes will open, it will help transport raw materials from Chittagong, Mongla and Payra ports at a cheaper rate that will benefit existing local businesses. Manufacturers of fast-moving consumer goods will also be able to reach their products to the remote places of 21 southwestern districts easily.
Transforming lives of over 3 crore people:
Entrepreneurial minds will blossom as people get new opportunities in small businesses, creating employment. Not only that, better healthcare facilities coupled with lesser commute time will add to better living.
Employment opportunities:
According to some estimates, new industries might create work opportunities for at least 10 lakh people within five years and the number may go up to 30-40 lakh within the next 10 years in the southwestern districts.
Migration to Dhaka will be reduced:
Dhaka is one of the world's most densely populated cities with over 2 crore people. It is very congested as people have hardly any work opportunities in other parts of the country. If business houses and industries are set up in these districts, people won't need to come to Dhaka for work and it will lessen the pressure on Dhaka.
[This report was earlier published by the Business Insider Bangladesh on May 24, 2022.]