New monetary policy timely but challenging: Economists
Sanjay Adhikari || BusinessInsider
Published: 04:23, 30 July 2021 Update: 04:28, 30 July 2021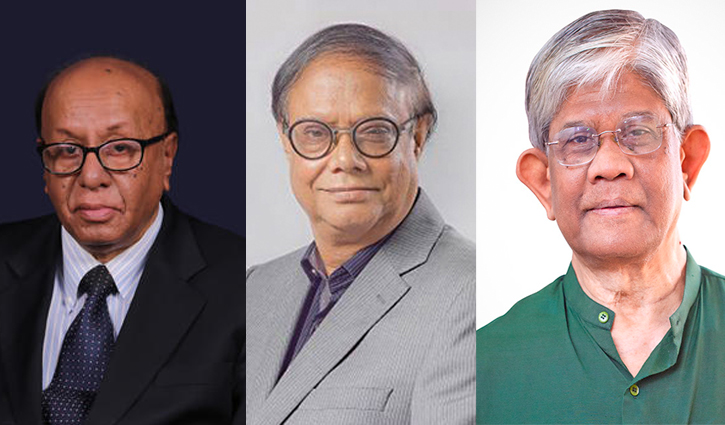 AB Mirza Azizul Islam, Ahsan H Mansur and Salehuddin Ahmed. Photos: File
Bangladesh Bank stuck to the expansionary monetary policy announced for the fiscal year 2021-22 taking the present macroeconomic situation into account.
The new monetary policy is an expected one and timely during the Covid-19 pandemic, according to the country's leading economists.
As the banks are now awash with liquidity, it will be quite challenging for the central bank to implement the policy, they said.
"The expansionary policy is the need of the hour. But the biggest challenge is to implement it,' said former financial adviser to caretaker government AB Mirza Azizul Islam.
"The extension of the monetary policy that was in place in the last financial year can be gauged by looking at the credit growth in the private sector. Credit growth in the sector has gone below 8 percent, which is the lowest," he said.
"If the credit to the private sector does not grow, the investment will not increase and the GDP growth will be hampered," said the reputed macroeconomist.
Former Bangladesh Bank Governor Dr Salehuddin Ahmed said that the expansionary monetary policy was expected during the pandemic situation. "That's what happened," he said.
"However, this monetary policy has to be coordinated with the fiscal policy of the government. Otherwise, the targets will not be achieved by monetary policy alone," he said.
He further said that the demand for production and consumption should be kept in line with the initiative taken to increase the flow of money in the market.
The ex-governor of the central bank also said the country might not face any kind of inflationary pressure in the next two to three months.
"Nevertheless, the overall stability of the economy needs to be ensured by reducing excess liquidity in the market."
Policy Research Institute Executive Director Ahsan H Mansur said an expansionary monetary policy does not require excess liquidity.
"This is because extra money does not play a positive role in increasing consumer demand," he argued.
The economist said the announced monetary policy has set a target to provide adequate credit to the productive sector, which is good.
"However, it should also be kept in mind that the flow of remittances in the country is much higher at the moment. Resultantly, the market has been adversely affected," he said.