Surplus money key challenge for banks
BI Report || BusinessInsider
Published: 04:20, 30 July 2021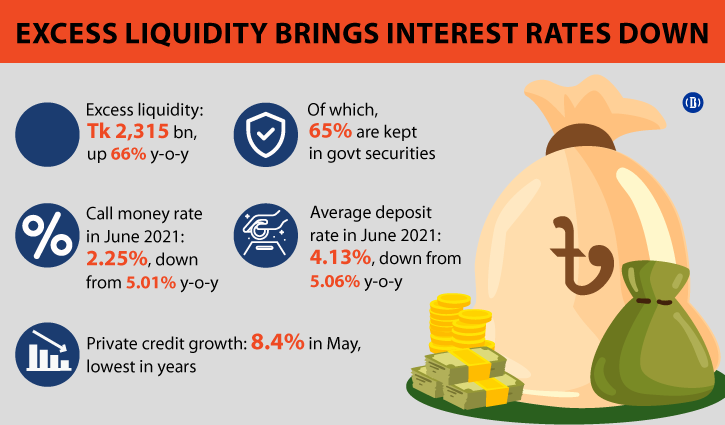 Photo illustration: Business Insider Bangladesh
Banks' surplus reserves maintained for the statutory purpose shot up by nearly 66 percent year-on-year to Tk 2,315 billion as of June 30 this year, according to the monetary policy statement released by the Bangladesh Bank for the current fiscal year 2021-22 on Thursday.
It said though around 65 percent of these surplus liquid asset reserves of banks are kept in the form of government securities, those can easily be converted into cash in the interbank market or the secondary market (though the secondary market for the government securities is yet to be developed) for investing in the higher profit earning lending purposes.
But the case is different this time as banks are seeing lukewarm demand for loans amid the fallout of the pandemic, which is also evident in the private sector credit growth that stood at 8.4 percent in May, lowest in years.
Moreover, banks' excess cash liquidity in terms of surplus cash reserves with BB (after the maintenance of CRR) has also significantly increased in fiscal year 2020-21 owing to slashing of CRR and substantial growth of deposits aided by strong remittance inflows.
The banks' surplus cash reserves with BB stood at Tk 625 billion at the end of June 2021, up by nearly three times from Tk 238 billion a year ago. A significant part of these surplus cash reserves are kept by the Islamic shariah-based banks due to the unavailability of ample shariah compliance securities and in the form of foreign currency for maintaining CRR requirements of their off-shore banking units, said the BB.
The persistence of surplus liquidity in the system resulted in a sharp decline in the overnight call money rate. Weighted average call money market rate recorded a significant decline from 5.01 percent in June 2020 to 2.25 percent in June 2021, the central bank said.
The negative moving of real deposit rate has become a matter of concern for the savers as they will see a fall in the real value of their savings if inflation rate is taken into account.
Available data indicate that the weighted average lending rate has come down to 7.33 percent in June 2021 from 7.95 percent in June 2020, while the weighted average deposit rate has gone down to 4.13 percent in June 2021 from 5.06 percent in June 2020.
"For expansionary policy the economy doesn't need so much excess liquidity as it cannot create demand," said Ahsan H Mansur, executive director of Policy Research Institute (PRI) of Bangladesh.
Rather, the central bank should take steps that can reduce poverty and create much-needed employment, he noted.