Bangladesh's prospects to explore central Asian markets brighten
Asif Showkat Kallol || BusinessInsider
Published: 17:11, 28 July 2022 Update: 17:30, 28 July 2022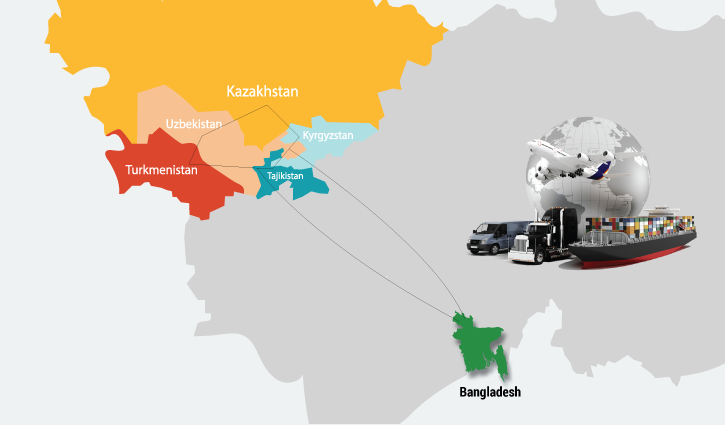 Graphics: Business Insider Bangladesh
Bangladesh's export opportunities brighten in central Asian countries as Uzbekistan and other countries are interested in forging trade and investment deals in the backdrop of Russia-Ukraine war, officials said.
The Deputy Prime Minister of Uzbekistan, Umurzakov Sardor Uktamovich, is arriving in Bangladesh on Friday to meet commerce minister Tipu Munish over enhancing bilateral trade between Bangladesh, Uzbekistan and other Eurasian Union nations, an official of commerce ministry, said.
The Eurasian Union is an economic pact established in 2015 and its members are Russia, Armenia, Belarus, Kazakhstan, Kyrgyzstan and observer members are Moldova, Uzbekistan, and Cuba. It is headquartered in Moscow, Russia and Minsk, Belarus, respectively.
The sources in the commerce ministry said there is a land transportation deal and FTAs between Uzbekistan and Russian allies such as Armenia, Belarus, Kazakhstan, Kyrgyzstan and Moldova.
"It is then easy for us to export products through Uzbekistan to Eurasian Union countries," the official said.
The landlocked Uzbekistan's 14-member delegation headed by Umurzakov is primarily interested in enhancing trade and investment between these two countries. They are also interested in Bangladesh's pharmaceutical and other export products.
In 2019, there was a bilateral trade talk that was not followed as expected.
Meanwhile, Bangladesh has a trade agreement with Azerbaijan and there will be one with Kazakhstan, soon, the official said.
The commerce ministry wants to make a bridge between the two private sector businessmen of Bangladesh and Uzbekistan, a market of 3.42 crore people.
Bangladesh has sought investment opportunities for home entrepreneurs in Uzbekistan, rich in natural gas and agro- based products, the official added.
There is a hurdle for Bangladesh to ship products to Uzbekistan and other Russian allies amid the current international developments.
"We have wanted a free trade agreement before Bangladesh graduates from LDC to middle income countries. Our talks with Uzbekistan are a part of this process," Senior Commerce secretary Tapan Kanti Ghosh said.
Uzbekistan's exports to Bangladesh stood at $10.63 million in 2021, according to the United Nations COMTRADE database on international trade.
Meanwhile, Bangladesh shipments were worth $10.19 million in 2015, according to the United Nations COMTRADE database.
On July 17, Foreign Minister Dr AK Abdul Momen had urged Uzbekistan President Shavkat Mirziyoyev to open his country's mission in Bangladesh and usher Dhaka-Tashkent bilateral and interregional relations to a new height.
He made the request while calling on President Mirziyoyev on the sideline of an international conference on "Central and South Asia: Regional connectivity. Challenges and opportunities."