Bangladesh's apparel exports to Russia, China fall
Jannatul Ferdushy || BusinessInsider
Published: 22:46, 16 July 2022 Update: 14:34, 17 July 2022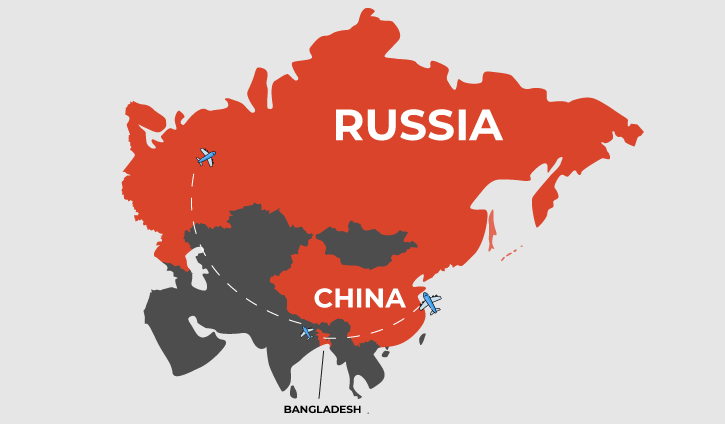 Graphics: Business Insider Bangladesh
When Bangladesh's apparel exports to the US, EU, Japan and India grew significantly in fiscal 2021-22, it was the opposite with Russia and China, two major emerging markets. Thanks to the Russia-Ukraine war, exports to China and Russia fell enormously during the last quarter of the FY22.
According to the Bangladesh Garment Manufacturers and Exporters Association (BGMEA), RMG exports of the country to Russia stood at $538.78 million in FY22 as against $593.66 million a year ago, while shipments to China aggregated $222.33 million, down from $271.28 million in FY21.
Since Russia's invasion of Ukraine in late February, the former is facing a raft of sanctions from the USA, Europe, Japan, the UK and Australia.
SWIFT, an international payment gateway, without which today's international trading is impossible, has excluded Russia from its network.
All these reasons have forced exporters to 'go slow' towards Russia.
"As Russia is not a big market, our total exports have not been affected much. Exports to Russia fell sharp in the previous fiscal year as some of the exporters stopped shipping there," said Muhammad Hatem, executive president of Bangladesh Knitwear Manufacturers and Exporters Association (BKMEA).
Besides, China is still fighting Covid-19, so their trade gets slower. "I think, when the pandemic situation gets normal, our trade will too."
Shahidullah Azim, vice president of BGMEA, said they have instructed their members to follow a slowdown strategy about shipping apparel to Russia as there are multiple embargoes effective on the country, including the global financial transaction sanction.
"Currently, we are receiving payments through China and the US. We will sit with the Russian envoy to Bangladesh soon to discuss payment options against our shipments," he added.
Exports to Russia have been increasing steadily for the last several years and traders previously thought that shipments could reach $1 billion at the end of the just expired fiscal year.