How Bangladesh's exports crossed $52bn
BI Report || BusinessInsider
Published: 19:48, 3 July 2022 Update: 20:30, 3 July 2022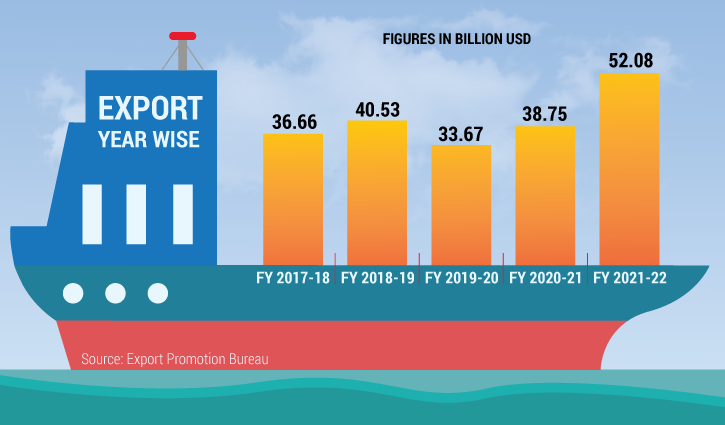 Graphics: Business Insider Bangladesh
Bangladesh's merchandise exports crossed the $50 billion mark in FY22, led by robust growth in readymade garments, home textile, leather and leather goods and agricultural products.
According to Export Promotion Bureau (EPB) data released on Sunday, Bangladesh's merchandise exports reached $52.08 billion in FY22, exceeding the government's target of $43.50 billion.
Earlier, Bangladesh's highest annual export was $40.53 billion in FY19. So, it took the country three years to cross the magical $50 billion mark. Exports nosedived to $33.67 billion in FY20 due to the Covid-19 pandemic that ate up a quarter amid the lockdown and serious down in economic activities.
After the release of December's data, Business Insider Bangladesh projected that the country's export earnings may hit a $50-billion mark at the end of the current fiscal 2021-22 if the current trend continues.
The forecast was made after Bangladesh's export earnings reached a record $4.9 billion in December, up 48.27 percent from the same month a year ago and over 25 percent more than the target.
According to Business Insider Bangladesh's analysis, factors that contributed to this hefty export growth include:
High raw material prices
Inflation and its impact on products' prices
Exorbitant freight costs
Continuation of stimulus packages to businesses
Enhancement and expansion of export development fund
Covid-19 lockdowns in China and Vietnam
Shifting of orders from Myanmar
Will this healthy export growth continue next year?
Ahsan H Mansur, executive director of the Policy Research Institute (PRI) of Bangladesh, said this healthy growth may not be sustainable next year as raw material prices and high inflation that drove up the growth in FY22, may not be there in the current fiscal year that began on July 1.