Tax cut offered to lure investment, create jobs: Kamal
BI Report || BusinessInsider
Published: 03:25, 5 June 2021 Update: 03:27, 5 June 2021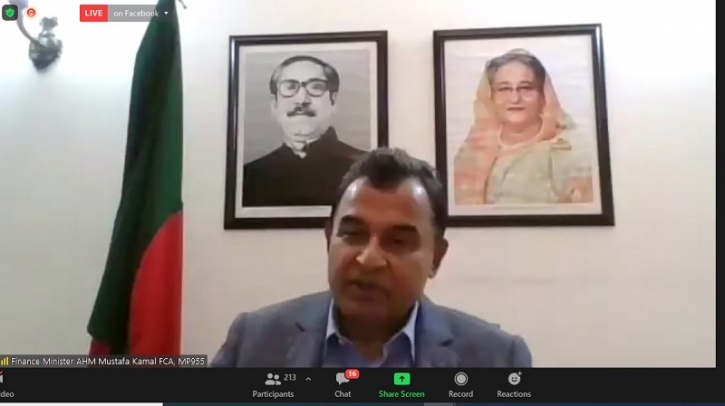 Finance Minister AHM Mustafa Kamal speaks in a post-budget virtual press conference on Friday. Photo: Mobile screenshot
The government has granted tax concessions and exemptions to attract investments, which will boost productivity and much-needed employment, Finance Minister AHM Mustafa Kamal has said.
He was speaking at a post-budget press conference held virtually on Friday, a day after he placed his third national budget for the fiscal 2021-22 before the parliament.
"The proposed budget is business-friendly because we want to boost investments and create jobs," said Kamal.
The finance minister said, "We have been taking preparations for the last two years and now it is time to offer tax benefits to the productive sectors."
In the budget proposals, the government has cut corporate tax for listed and non-listed companies by 2.5 percentage points and offered tax exemptions for 10 to 20 years to some industries, such as automobiles, home appliances and light engineering.
The Centre for policy Dialogue (CPD) in its budget analysis said all these initiatives have long-term revenue implications and use of these provisions will need to be carefully monitored.
But the finance minister thinks differently. He believes the proposed tax benefits will bring in more investments and businesses will engage more in economic activities, which will ultimately boost revenue income in the long-term.
According to analysts, only tax benefits cannot attract investments from the private sector. There are other issues, such as heavy-handed bureaucracy and administrative procedures that act as discouragements to investments.
The finance minister also said foreign investment rise will also increase the revenue which will create a win-win situation for the government, and local and foreign businesses.
He also said the National Board of Revenue (NBR) will take an initiative called 'Made in Bangladesh' under which tax waiver will be offered to the local industries.
The finance minister said, "Even the United States once had a 75 percent tax rate, which is no longer the case. Everyone tried to figure out whether to pay more taxes."
He added, "We think if we gradually reduce the rate of tax, our revenue collection will increase."
The health sector has been given importance in the budget for a good reason, Kamal said. Besides, implementation of incentive packages announced by the prime minister, agriculture, food production and management have been given more importance in tackling Covid-19, he also said.
The finance minister also said that throughout the financial year, the government will have various food-friendly programmes, and the scope of social security programmes will be increased.
"Our debt-GDP ratio is 40 percent which is good compared to China's 100 percent and India's 100 percent. So, we can take more loan from development partners and foreign countries for the country's development. We are now in a middle-income country range with a foreign exchange reserve of $45 billion. Bangladesh has provided loan to Sri Lanka and in near future will provide loan to other countries, he said.
The finance minister also said more fund will be allocated to create job in the country amid coronavirus situation. In this regard, senior finance secretary Abdur Rouf Talukder said to create job in the country, the government has planned to increase Annual Development Programme allocation by Tk 32,000 crore along with reduction of corporate tax and reduction of tax through 'Made in Bangladesh' initiative.