Govt contemplates to create over 70 lakh jobs in 2 years
Asif Showkat Kallol || BusinessInsider
Published: 22:10, 11 June 2022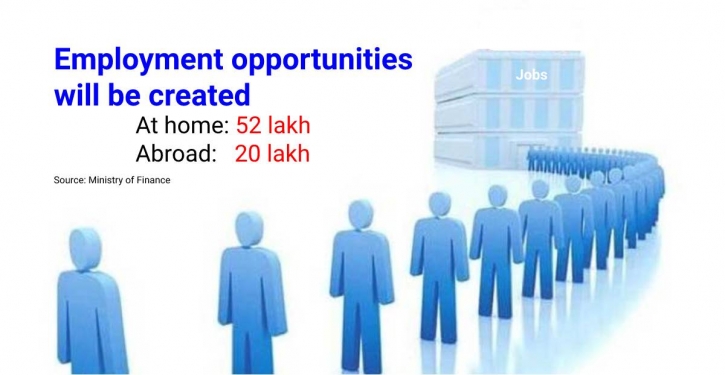 Graphics: Business Insider Bangladesh
The government has taken a massive plan to create 7.19 million jobs amid a moderate GDP growth in the next couple of fiscal years.
A medium term macroeconomic policy statement said the employment could be generated in 2022-23 and 2023-24 fiscal years through direct foreign investment, training and overseas job placement amid the thinning Covid-19 pandemic and intensive Russia-Ukraine war.
According to the policy statement, in the next two fiscal years, a total of 4.76 million workers will join the home workforce.
The government hopes that a total of 2.06 million (20 lakh) jobs will be created in various foreign countries while the rest would be created in the country.
The policy paper said to send this huge workforce abroad, the government will set up foreign job aid offices in 8 divisions to recruit people and send them abroad.
The government is hopeful that they could send some 21 lakh people to various foreign countries with jobs and contemplates creating a 15 lakh skilled workforce through training in the next three years.
Rehabilitation of workers who had lost jobs in various host countries during Covid-19 pandemic are underway, the paper said.
Prime Minister's Adviser Salman F Rahman claimed a couple of months ago that there was no unemployment in the country. He gave these remarks at a seminar organised by the National Skills Development Authority.
He, however, said there was a shortage of agricultural laborers during harvesting seasons and that apparel industries were looking for a workforce for a good number of their factories.
According to the International Finance Corporation (IFC), a World Bank-affiliated organisation, Covid-19 pandemic has made 37 percent of people working in the country's small, medium and medium enterprises (MSMEs) unemployed.
About 20 percent of Bangladesh's gross domestic product (GDP) comes from these sectors. About two crore men and women work here.
According to ILO research, the young generation is most at risk due to the Coronavirus pandemic. Among the 15- to 24-year-olds, 24.8 percent are unemployed. Unemployment rate among youth is double.
Prof Mustafizur Rahman, distinguished fellow of CPD, said creating 70 lakh jobs amid a waning Covid and ongoing Russia-Ukraine war seem difficult.
He said there is no clear guideline on how such a huge number of jobs could be generated.
However, he said creating opportunities for new employment and preserving existing jobs are important for proper budget implementation because it would play a vital role for economic recovery reeling under the pandemic.
"But, we have not seen any policy support or plan to create new jobs in the country when the budget was announced on Thursday," he added.
In this case, policymakers would need to focus on increasing employment in the public sector and encourage investment in the private sector, he noted.
The government has created some 27,174 posts in the public sector while it dismantled some 22,630 posts in the last one year.
According to data of the Bangladesh Bureau of Statistics and other sources, the unemployment rate in Bangladesh is about 5 percent.
It is not much more than many countries in the world. However, Bangladesh has got more educated people jobless who have earned graduations.
According to a survey, the number of employed people in the country is 1.36 crore of which 45.3 percent are employed in the service sector, 30.8 percent in agriculture and 24.1 percent in industrial sectors, respectively. The survey was conducted by the General Economics Department of the Ministry of Planning.
Meanwhile experts said the biggest disadvantage of latent unemployment is that in the most productive period of his/her life an employee is working far less than he is able to do and earning much less, too.
In order to realise the dream of becoming a 'developed country' by 2041, the real income of the common man has to be increased at a substantial rate.
This target cannot be achieved by calculating a 12 per cent increase in per capita income amid a high inflation and 8 percent GDP growth, experts said.