BNP calls off daylong hartal after 6hrs in Bhola
Published: 15:18, 4 August 2022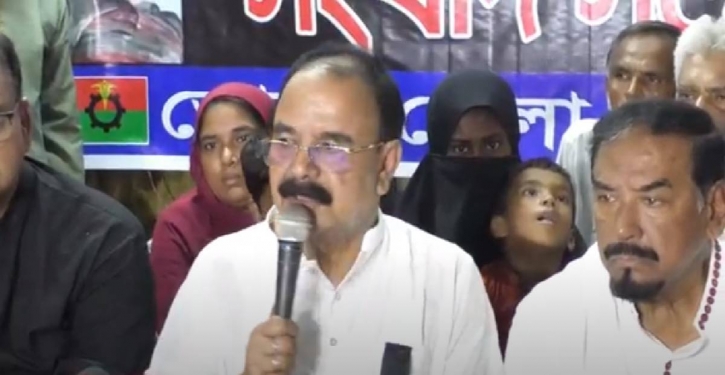 Gayeshwar Chandra Roy is seen speaking. Photo: Collected
The BNP has withdrawn hartal in Bhola after four hours of enforcement Thursday noon although they called a daylong one in protest against the death of Jatiyatabadi Chhatra Dal (JCD) district unit president Noor-e-Alam in a clash between police and supporters of the main opposition party.
The party said it has made the decision considering peoples' sufferings.
BNP senior leader Gayeshwar Chandra Roy made the announcement at a press briefing at the district party office at noon.
Gayeshwar demanded compensation for the families of those killed and the injured victims in the clash as well as action against police.
After the press conference, the wife and children of slain Swechchasebak Dal leader Abdur Rahim were provided financial assistance by BNP.
Following the announcement, shops opened and traffic movement became normal on the district roads.
Until 12pm on Thursday, the protesting BNP men staged demonstrations and brought out processions in different parts of the district in a peaceful manner, said BNP's Bhola unit joint general secretary Humayun Kabir Sopan.
Due to the hartal, most shops and business establishments on Mahajanotti Sadar Road and the BNP office area remained closed in the morning.
Only a few vehicles were seen plying on the roads in the district. However, long-haul buses were seen plying on the Bhola-Charfashion route.
Besides, law enforcers were deployed at some major places of the district town to avoid any untoward situation.
Noor-e-Alam sustained bullet wounds during the clash with the police on Sunday.
Humayun said that Noor-e-Alam was taken to Comfort Hospital in the capital on the same day, where he succumbed to his injuries around 3:15pm on Wednesday. He had been on life support at the hospital.
As part of BNP's countrywide demonstration programme protesting the ongoing load shedding and mismanagement in the power sector, the leaders and activists of the party gathered in front of their district party office in Bhola on Sunday.
At one stage, police obstructed them when they tried to stage demonstrations at Kalinath Roy Bazar around 11:30am, triggering a clash.
Later, police fired bullets and lobbed teargas shells that left local Swechchasebak Dal leader Abdur Rahim dead and some other leaders and activists of the party injured.