China launches 11 DF missiles near Taiwan
BI Desk || BusinessInsider
Published: 19:09, 4 August 2022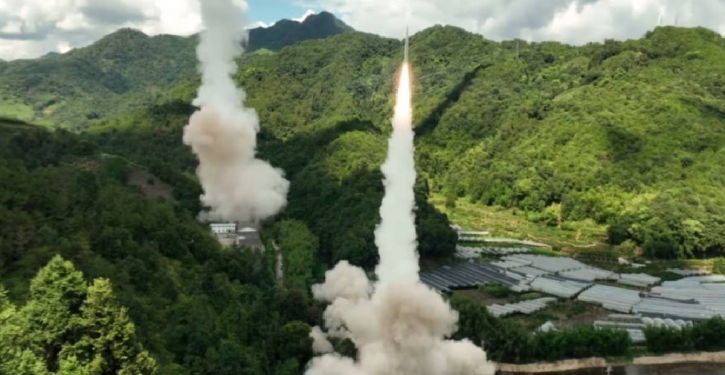 Photo: Collected
Beijing steps up extensive military drills in an unprecedented war game deemed a de facto blockade of the island.
The Chinese army launched multiple ballistic missiles into waters around Taiwan on Thursday as China's largest ever military drills encircling the island began.
Taiwan's armed forces say an unidentified aircraft was found flying over Quemoy and troops fired flares to warn the drone away, reports South China Morning Post.
"The Ministry of National Defence stated that the Chinese Communist Party fired multiple Dongfeng series ballistic missiles into the surrounding waters of northeastern and southwestern Taiwan from approximately 13:56 this afternoon," the Taiwanese defence ministry said in a brief statement.
It later confirmed that 11 missiles had been fired, nearly double the number that were fired in July 1995 during the Third Taiwan Strait Crisis.
In response, Taiwan activated "relevant defence systems," a senior military official said at a briefing. Taiwan's defence ministry condemns "the irrational actions," which undermine regional peace, the official said.
Japan said that five ballistic missiles fired by China also appeared to have landed in its exclusive economic zone, in the first such incident.
Japanese defence minister Nobuo Kishi said it had lodged a protest via diplomatic routes.
China's military has kicked off unprecedented war games as Beijing ramps up its intimidation campaign against the self-ruled island following United States House Speaker Nancy Pelosi's visit.
China on Thursday morning added another zone for its military drills encircling Taiwan – bringing the total to seven – and extended the duration of the war games until Monday at 10am (0200 GMT), Taiwan's Maritime Port Bureau announced, according to Taiwanese media.
The new zone for military drills is located in the waters east of Taiwan, about 130 kilometers from the Port of Hualien, according to Liberty Times. This intensifies and extends the duration of the unprecedented war games encircling the island that China has launched in response to Ms Pelosi's visit.
Taiwan's Ministry of National Defence said in a statement that it will "uphold the principle of preparing for war without seeking war".
The zones were chosen for their importance in a potential campaign to seal off Taiwan and thwart foreign intervention, Major General Meng Xiangqing, a professor of strategy at the National Defense University in Beijing, said in an interview on Chinese state television.
One zone covers the narrowest part of the Taiwan Strait. Others could be used to block a major port or attack three of Taiwan's main military bases, he said.
The zone near Kaohsiung in southern Taiwan, where there are crucial bases, "creates conditions to bolt the door and beat the dog," said General Meng, using a Chinese saying that refers to blocking an enemy's escape route.
The air and naval live-fire exercises, some of which are crossing into Taiwan's air and maritime space, began hours after the US House of Representatives speaker left Taiwan on Wednesday, after conducting the first visit by such a senior US politician to the island in 25 years.
The drills will use some of China's most advanced weapons, including DF-17 hypersonic missiles and J-20 stealth fighter jets, according to a report by the state-run newspaper Global Times.
"The exercises are unprecedented as the PLA conventional missiles are expected to fly over the island of Taiwan for the first time," the paper said.
China's drills amount to a de facto blockade of the island, Taiwan's defence ministry claimed.
Unidentified aircraft, likely drones, were seen flying on Wednesday night above the area of its Kinmen islands and Taiwan fired flares to drive them away.
Major General Chang Zone-sung, of the Army's Kinmen Defence Command, told Reuters that Chinese drones came in a pair and flew into the Kinmen area twice at around 9pm (2pm UK) and 10pm.
"We immediately fired flares to issue warnings and to drive them away. After that, they turned around. They came into our restricted area and that's why we dispersed them," he said.
The heavily fortified Kinmen islands are just off the southeastern coast of China, near the city of Xiamen.
"We have a standard operating procedure. We will react if they come in," Maj Gen Chang said, adding that the alert level there remained "normal".