Walton launches 3-in-1 converter AC with bluetooth, air plasma
BI Report || BusinessInsider
Published: 21:27, 7 August 2022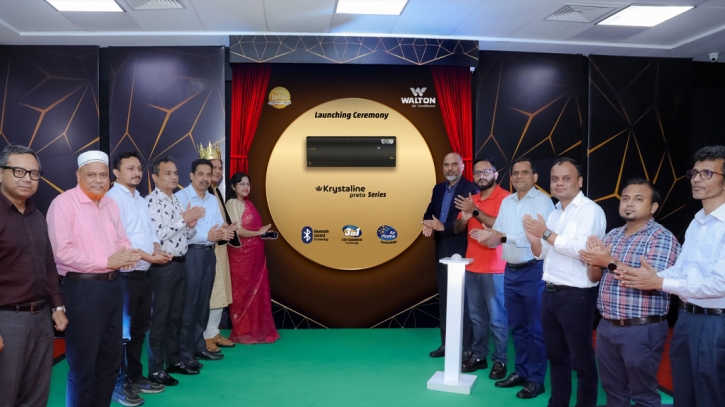 Walton Hi-Tech Industries PLC's MD and CEO Golam Murshed is unveiling Krystaline Preto Series 3-in-one converter AC with Bluetooth and Air Plasma technology.
Walton has launched 3-in-1 converter air conditioner (AC) featured with Bluetooth and air plasma technology.
Walton claims that this is the world's first-ever air conditioner that features all three technologies - Bluetooth, air plasma and 3-in-1 converter on August 7.
Walton released the black-coloured latest model of 1.5 ton AC in its Krystaline Preto series that can be converted to 1 or 0.75 ton in accordance with the room size.
Along with the remote controller, customers can also operate or control this huge energy-saving AC through a smartphone via Bluetooth.
The latest model of Walton AC is also designed with air plasma technology, which will destroy bacteria and viruses in the air.
Walton Hi-Tech Industries PLC's Managing Director and CEO Golam Murshed unveiled this state-of-the-art technology's AC at a launching programme held at the auditorium of Walton Corporate Office in the capital on Sunday.
The program was also attended by, Walton Hi-Tech's Deputy Managing Directors Nazrul Islam Sarker, Amdadul Hoque Sarker, Eva Rizwana Nilu and Humayun Kabir, Walton Plaza Trade's CEO Mohammad Rayhan, Senior Executive Directors SM Zahid Hasan, Firoj Alam, Ariful Ambia, Dr. Sakhawat Hossen and Amin Khan, Walton AC's Chief Business Officer (CBO) Tanvir Rahman, Deputy CBO Sandeep Bishwas.