Walton showcases South Asia's most cost-effective AC at DITF
BI Report || BusinessInsider
Published: 19:30, 19 January 2023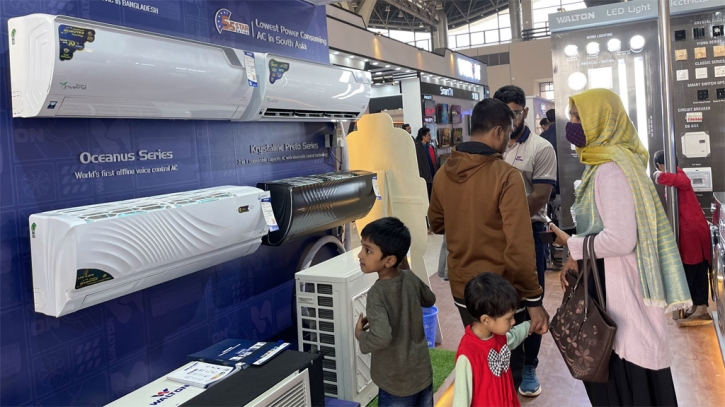 Photo: Courtesy
South Asia's most energy-efficient AC is on display at the eye-catching Walton Pavilion at the DITF.
Walton's 'Inverna (Extreme Saver)' series AC received 5.5 star energy rating from Bangladesh Standards and Testing Institution (BSTI). Bangladesh University of Engineering (BUET) test showed that per hour electricity consumption in Walton's 1 ton AC using eco mode is only Tk 2.19.
This AC featured with frost clean, air plasma, three-in-one converter technology, smart control and various advanced technologies, said a press release.
At Walton Pavilion, visitors can witness the electricity consumption of Walton 'Inverna' series ACs. A power meter is connected with AC power connection, in which how many watts of electricity are consumed, how many units are billed, everything is visible instantly. Visitors are surprised to see such energy efficient AC of Walton. Most of them are intending to buy this AC next summer.
Walton AC's service expert named 'Saidur Rahman Joy' is showing the electricity saving issue to the visitors at the fair. He said, Walton is not selling products at the trade fair. But, visitors at the fair can place purchase orders for Walton products on the company's online sales platform E-Plaza at 10 percent discount rates with home delivery facility. In addition, customers are enjoying free installation of Walton AC.
Walton AC's Research and Innovation Department's Head Engineer Ariful Islam said that the input power of Inverna (Extreme Saver) series 1 ton AC is 690 watts. That means, maximum 690 watts of electricity will be required to run this Walton AC. If the user run this AC in Eco mode for 8 hours every day, it will consume only 106.8 units of electricity per month. According to the residential electricity rate, the bill will be Tk 526 for the whole month and Tk 2.19 per hour.
He noted that the 3in1 converter technology of this AC featured with conversion facility of its tons or BTU per hour according to the room size. 1 ton or 12,000 BTUs per hour AC can be converted into 9,000 BTUs or 6,000 BTUs per hour through remote or smartphone.
The 'Air Plasma' of this Walton AC also destroys the bacteria and viruses in the air and ensures a healthy and comfortable environment in the house. The eco-friendly R-32 refrigerant used in this intelligent inverter technology's AC saves electricity.
This AC can clean itself with its frost clean technology. This technology automatically cleaned the existing dust in the indoor unit by making ice in the evaporator. With smart control facility, this AC can be controlled from anywhere in the world through smartphone. Customers can monitor some necessary information, including electricity consumption. through the app on their smartphones.
The star rating refers to the power saving capability of various electronics products including AC. The higher the star rating of the product, the more energy efficient the product is. Only Walton AC in Bangladesh has achieved more than 3 star rating certified by BSTI.
Along with one year replacement, Walton is offering up to 10 years warranty on inverter AC compressor. Walton ACs are being exported to various countries of the world including India.
The users of Walton AC are getting best and swift after sales services from 79 service centers across the country and around 300 service partners under the ISO certified service management system. Walton's skilled, experienced engineers and technicians are providing free service to AC buyers in every 100 days.
The month-long 27th Dhaka International Trade Fair (DITF) is going at Bangabandhu Bangladesh China Friendship Exhibition Center Purbachal in the capital.