National Mourning Day observed in Kunming
BI Report || BusinessInsider
Published: 22:57, 15 August 2021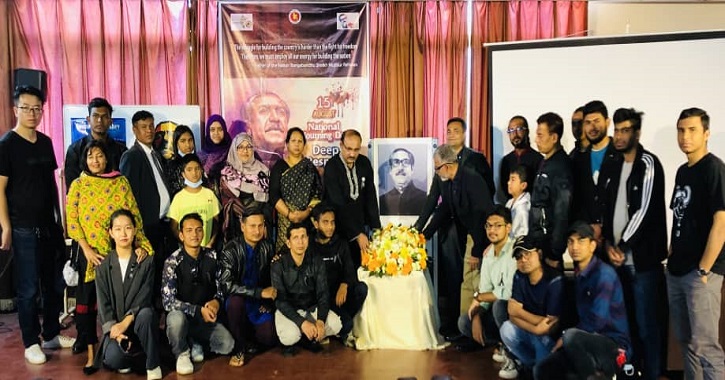 Consulate General of Bangladesh in Kunming, China observed the 46th martyrdom anniversary of Father of the Nation Bangabandhu Sheikh Mujibur Rahman and National Mourning Day on Sunday Photo: Courtesy
Consulate General of Bangladesh in Kunming, China observed the 46th martyrdom anniversary of Father of the Nation Bangabandhu Sheikh Mujibur Rahman and National Mourning Day on Sunday.
As part of the programme, the Bangladesh national flag was hoisted at half mast, placing floral wreaths at the portrait of the Father of the Nation, recitation of the holy Quran, special prayer and munajat were offered, said a press release.
Paying deep respect to Bangabandhu, Consul General of Bangladesh in Kunming AFM Aminul Islam read out a brief biography of Bangabandhu and highlighted different phases and angles of the life of the Father of the Nation.
He said Bangabandhu Sheikh Mujibur Rahman was a visionary leader of the Bengali Nation and the architect of the country's independence.
Consul General AFM Aminul Islam offered special prayer seeking eternal peace of the departed souls of Bangabandhu and his family members who were assassinated on the black night of August 15, 1975.