Record number of Bangladeshi workers likely to go to S Korea this year
Published: 19:58, 3 August 2022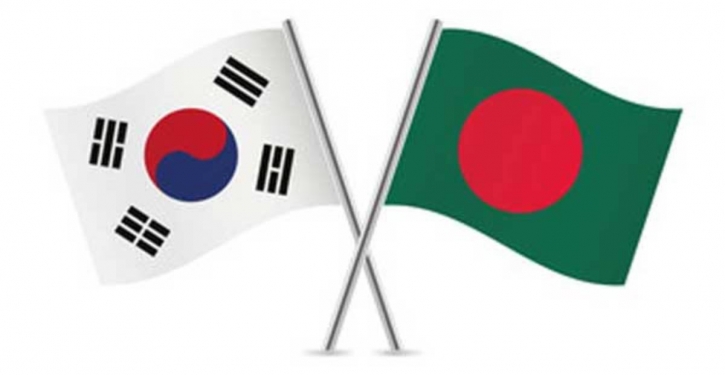 Flags of South Korea and Bangladesh. Photo: Representational
The number of Bangladeshi workers in South Korea, recruited under the Employment Permit System (EPS), is likely to be over 3,600 this year, according to the Dhaka EPS Center.
Some 2,594 Bangladeshi workers have already been recruited by South Korea between January and July 2022.
The government of the Republic of Korea plans to allocate over 1,000 additional quotas to Bangladesh this year to meet the increasing demand by Korean employers, said the Korean Embassy in Dhaka on Wednesday.
If things go well it will be the highest number since the start of Korea's EPS programme with Bangladesh in 2008. It was in 2010 that the highest number of Bangladesh EPS workers, 2,691, went to Korea.
The South Korean government has been recruiting unskilled foreign workers from 16 selected countries including Bangladesh through the programme called EPS.
With a memorandum of understanding (MoU) signed between the two governments, Bangladesh Overseas Employment and Services Limited (BOESL) has been sending Bangladesh expatriate workers to Korea since 2008.
Due to the Covid-19 pandemic, however, the South Korean government suspended admitting foreign EPS workers from March 2020 until November 2021.
With the improvement of the Covid-19 situation both in Korea and Bangladesh, the Korean government resumed taking the foreign workers in December 2021 under the strict application of quarantine measures before their departure from Bangladesh and after arrival in Korea.
Chartered direct flights between Korea and Bangladesh which initially started to carry Korean nationals during the pandemic situation have been used by Bangladesh expatriate workers going to Korea.
Since April 2022, the chartered direct flight had carried over 100 Bangladesh workers every week.
South Korean Ambassador to Bangladesh Lee Jang-keun has said Bangladeshi expatriate workers have been a central pillar of Korea-Bangladesh friendship and will continue to play an essential role in strengthening bilateral ties in the future.
Recognising the BOESL's contribution to the Korea-Bangladesh people-to-people exchange by equipping EPS workers to become suitable for their employment in Korea, Ambassador Lee also mentioned that the Embassy and the EPS Dhaka Center will work closely with BOESL not only to increase the number of workers and diversify the areas of their employment but also to prepare more qualified workers.