Bangladesh loses Tk 2,700cr annually due to cheating, fraud in migration
Md Owasim Uddin Bhuyan || BusinessInsider
Published: 18:11, 24 August 2022 Update: 18:15, 24 August 2022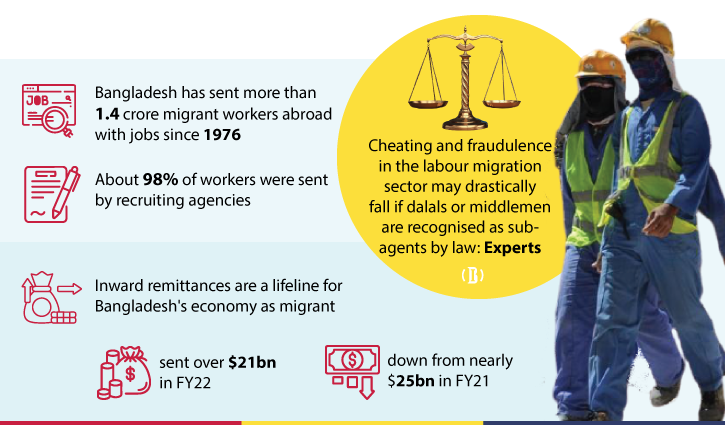 Graphics: Business Insider Bangladesh
Bangladesh incurs losses of over Tk 2,700 crore annually due to cheating and fraud in its labour migration sector as many unscrupulous recruiting agencies with their uncounted sub-agents or dalals continue to commit such offences against the migrant workers.
Migration experts suggest the government take necessary steps to regularise sub-agents or middlemen in the labour migration sector in line with the relevant law to address fraudulence and ensure ethical recruitment practices.
Cheating and fraudulence in the labour migration sector may drastically fall if dalals or middlemen are recognised as sub-agents by law, they said.
Parliamentarians' Caucus on Migration and Development, Bangladesh Civil Society for Migration and Refugee and Migratory Movements Research Unit, with the support of the Embassy of Switzerland under the SIMS project coordinated by Helvetas advocate for the regularisation of middlemen in Bangladesh.
Parliamentarians' Caucus on Migration and Development chairman, Barrister Shameem Haider Patwary said, "We realise that if the middlemen are brought under a regulation, then irregularities and false commitments while sending workers will decrease".
He further added that if the regularisation process of sub-agents were done earlier, then the migration sector would be benefitted more and monitoring of sub-agents could help combat the exploitation of migrant workers abroad.
Bangladesh, as a member state of the Colombo process, chairs the Thematic Area Working Group (TAWG) of the Colombo Process on ethical recruitment taking place in Bangladesh on 24-25 August 2022.
As the Bangladesh government is fully committed to ethical recruitment, it has revised the Overseas Employment and Migrants Act 2013 and created space for the regularisation of middlemen.
On August 22, speaking at a roundtable at Parliament Members' Club, a group of lawmakers, civil society leaders, and middlemen demanded regularisation of manpower brokers, registering them with the licensed recruiting agencies and the Bureau of Manpower, Employment and Training.
Dr. Tasneem Siddiqui, Founding Chair, RMMRU who presented the keynote shared three separate models of regularising sub-agents and placed those before the stakeholders.
The models include registration by the Bureau of Manpower, Employment and Training (BMET) to sub-agents nominated by recruiting agencies, registration by BMET to sub-agents processed by the District Manpower and Employment Office (DEMO), and registration by BMET to sub-agents nominated by the Bangladesh Association of International Recruiting Agencies (BAIRA).
Referring to RMMRU's previous study, Dr. Siddiqui said, sub-agents provide 17 different services to migrant workers. She mentioned that recruiting agencies also take the services of sub-agents but they "procure" that informally.
"This is one of the sources that help unscrupulous recruiting agencies and sub-agents to commit fraud. As early as 2019, RMMRU projected, annually Tk. 2706.2 crore is lost due to such cheating," she noted in the presentation.
She said that the Bangladesh Association of International Recruiting Agencies (BAIRA) should be institutionalised and its offices should be extended to the district and upazila levels for migrants.
Dr Tasneem, however, said that BAIRA itself would not have the financial capacity to do so and it should be supported by either the government or the development partners for its institutionalisation.
Senior BAIRA leader Ali Haider put emphasis on ensuring transparency and accountability in the manpower recruitment sector for the greater benefit of migrant workers.
Describing manpower dalals as "associates of recruiting agencies," he said that all stakeholders including passport offices, ministries of home, foreign and other relevant organisations in this sector would have to work together for this.
"We want to work with the government to make the sector more efficient," he said.
Sanwar Hossain, a sub-agent from Tangail said that each business has its dealers at the upazila and district levels. But the manpower business has no such dealership. "As we are working in the rural area, we need recognition by law for legal survival."
Another sub-agent Lutful Rahman said that "We take the passport from migrant workers for sending them abroad. We need to face the challenge as migrants often fall into problems abroad."
Another sub-agent from Cumilla said, "My daughter asks me what is your profession. But I cannot tell her as people in my locality call me Dalal."
BCSM co-chair Syed Saiful Haque raised questions to know if the middlemen would be regularised or not by the authorities concerned at home and destination countries.
"Who will regularise the Dalals in the recipient countries?,' he said, emphasising boosting skilled migrants from Bangladesh to cut migration costs and reduce the connection of middlemen.
OKUP chairman Shakirul Islam Shakil said that the migration sector should be declared as a thrust sector considering its importance.
Bangladesh has sent more than 14 million migrant workers abroad with jobs since 1976, according to BMET data. About 98 percent of workers were sent by the recruiting agencies.
The labour migration sector is immensely contributing to the national economy as Bangladesh received remittances of more than $21 billion in FY22 sent by the country's migrant workers.
However, Bangladeshi migrant workers need to pay the highest cost for their migration due to the involvement of middlemen in the recruitment process.