Import of urea fertiliser faces setbacks for lack of funds: BCIC
Asif Showkat Kallol || BusinessInsider
Published: 22:12, 17 August 2022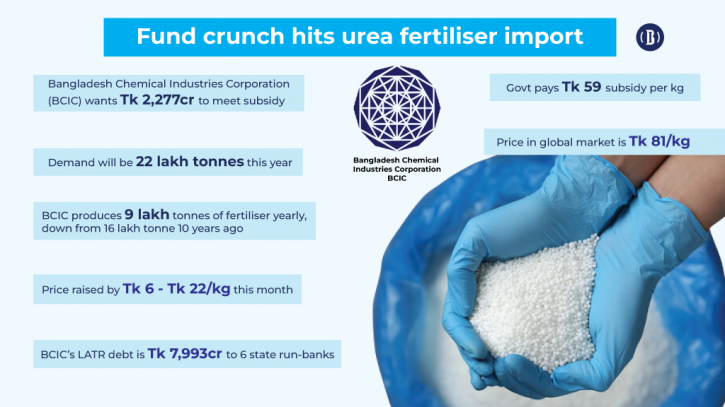 Graphics: Business Insider Bangladesh
The Bangladesh Chemical Industries Corporation (BCIC) is worried over cessation of urea fertliser import due to lack of funds.
BCIC has solicited Tk 2,277.69 crore from the Finance Division to meet the Trade Financing and Loan against Trust Receipt (LATR) which are in fact loan of banks that fall under non-repayment category.
LATR is a short term loan provides to the importer to settle the payment of imported goods. The title of the goods is held by the bank until the importer settle the payment but the buyer can take possession of the goods on trust for resale before paying the bank on LATR due date.
The chairman of BCIC Shah M Imdadul Haque recently sent a letter to the finance secretary asking for the fund for the period of October to December, 2021.
At present, there is LATR debt of Tk 7,993.10 crore that includes accumulated interests of the six state run banks including Sonali, Janata and Agrani, respectively, the letter said
Meanwhile, the government raised the prices of urea fertiliser by Tk 6 to Tk 22 per kg considering the price of urea fertiliser in the international market at Tk 81 per kg.
The government will still have to pay a subsidy of Tk 59 per kg even after the latest price hike, the Ministry of Agriculture said in the first week of this month.
According to the Agriculture ministry, BCIC used to manufacture over 16 lakh tonnes of fertilisers through its four fertiliser plants ten years ago. However, the production capacity has now fallen to only 9 lakh tonnes.
But now as two fertiliser factories have been shut down because of gas shortage and diverting the resource to the power plants, the government has to rely more on importation. The demand for urea fertiliser will be around 22 lakh tonnes, during the incumbent financial year.
According to the chairman's letter, every financial year, considering the needs of the government and the Ministry of Agriculture, BCIC urea fertiliser plants chalk out their total production and work out a tentative amount of import, possibly from Kafco and under G2G initiatives.
Meanwhile, the BCIC's total outstanding aggregated Tk 2,277.69 crore.