Bus fare likely to increase by 28 paise per km in city areas
BI Report || BusinessInsider
Published: 17:16, 6 August 2022 Update: 17:33, 6 August 2022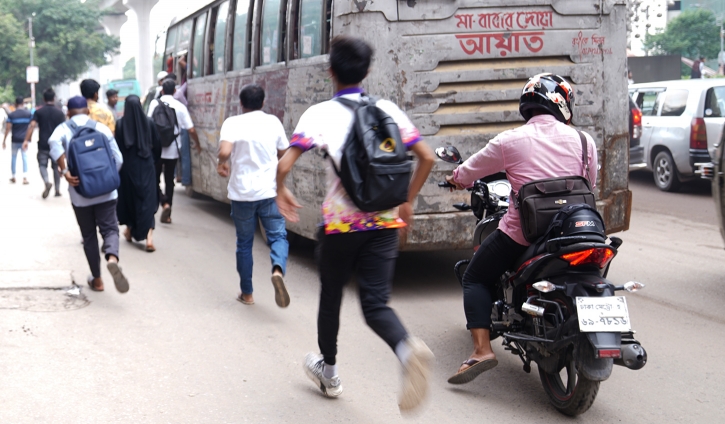 Passengers struggle to get on a bus in the capital on Saturday amid shortage of transports after the announcement of increase in prices of fuel oils. Photo: Business Insider Bangladesh
Bus fares are likely to increase by Tk 0.28 per kilometre to Tk 2.43 in city corporation areas.
The Ministry of Power, Energy and Mineral Resources issued a news release in this regard on Saturday.
The fare in the country's city corporation areas may increase by 13.16 percent per kilometre against the backdrop of the fresh price hike of fuel oils announced by the government on Friday night.
Besides, passengers on the long-haul routes are likely to pay Tk 2.82 per km with an increase of Tk 0.29 per kilometre or 16.22 percent. At present, the fare on long-distance buses with 52 seats is Tk 1.8 per kilometre.
Apart from this, the transport fare per kilometre on the waterways is likely to increase to Tk 2.62 or 19.18 percent against the present fare of Tk 2.19.
The Energy and Mineral Resources Division on Friday increased diesel and kerosene prices by Tk 34 per litre to Tk 114 and octane and petrol prices by Tk 46 per litre to Tk 135 and the new rate took effect at midnight on Saturday.