Steps start paying off as imports decline sharply in July: BB
BI Report || BusinessInsider
Published: 19:31, 1 August 2022 Update: 16:13, 2 August 2022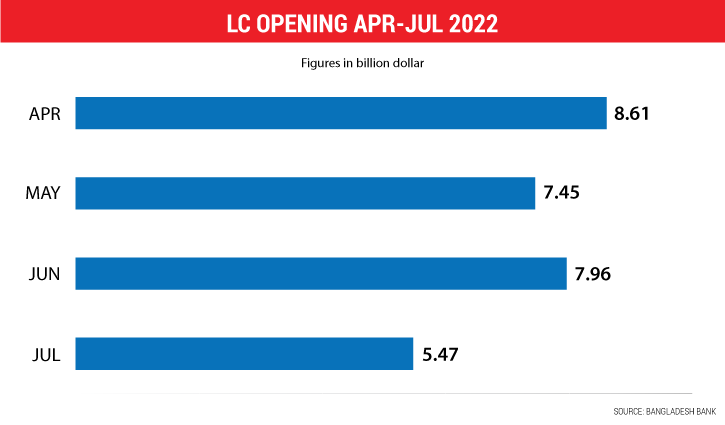 Graphics: Business Insider Bangladesh
The government and the central bank's measures to tighten imports have started paying off.
Accordingly, LC opening, known as import orders, dropped over 31 percent to $5.47 billion in July, down from $7.96 billion a month ago, according to the Bangladesh Bank (BB) data.
"A set of measures by the government and the Bangladesh Bank have contributed to the reduction of the import orders," Serajul Islam, spokesperson of the BB, told Business Insider Bangladesh on Monday.
Earlier on July 14, the BB asked banks to take prior approval from the central for LC worth $5 million and above. Later, the BB brought the ceiling down to $3 million to further tighten the outflow of the greenback in the name of imports.
The BB also took a set of measures to ease the volatility in the foreign exchange market. These include encashing 50 percent of total foreign currency held in relevant export retention quota (ERQ) accounts and slashing 5 percentage points of the net open position (NOP) limit of commercial banks.
Nearly after a decade of the stable exchange rate, Bangladesh started to witness a depreciation of the Taka against the US dollar from the middle of April as commodity prices, be it oil, gas, fertilizer, wheat and industrial raw materials, all saw a sharp rise as the Russia-Ukraine war disrupted the global supply chain.
Accordingly, the demand for the dollar, especially by importers, has skyrocketed. The Interbank exchange rate, which was Tk 86.45 a dollar in April, rose to nearly Tk 95 in the middle of July. The price of a dollar was above Tk 100 for settling import bills and Tk 108-110 at the curb market.
The continued devaluation of the Taka has also fuelled the already high inflation, for which the government and the BB were forced to tighten imports and the demand for the dollar as well.
"Our imports were $80 billion and exports were $52 billion. To reduce this huge gap, the central bank imposed restrictions, such as introducing 100 percent LC margin on imports of non-essential and luxury items," said Islam of BB.
"All these steps helped us reduce LC opening by 31 percent in July compared to June," said the spokesperson of BB.
Also, a good inflow of inward remittances – over $2 billion in July - is helping the exchange rate market get stable, he said.
Bangladesh's forex reserves increased to $39.54 billion on Sunday, up from $39.47 billion on Thursday following an increase in the inward remittances.