BAPEX Irregularities-4
BAPEX defies procurement rules, made purchases worth Tk156cr
Hasan Azad || BusinessInsider
Published: 21:07, 23 November 2021 Update: 11:00, 26 November 2021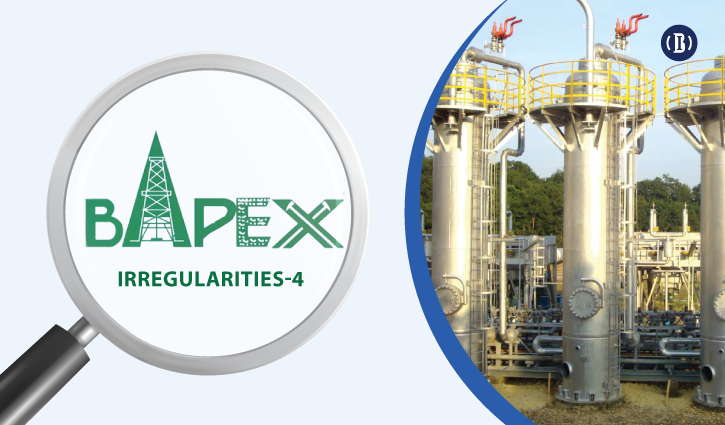 Photo illustration: Business Insider Bangladesh
By violating the Public Procurement Rules (PPR-2008), Bangladesh Petroleum Exploration and Production Company Limited (BAPEX) has made purchases worth Tk 156 crore.
During the purchase, BAPEX did not get any approval from the head of the annual purchase planning formulation and purchase office.
The PPR violation surfaced recently in an audit report of 2019-20 Fiscal Year (Audit Inspection Report -AIR). The auditing body, the Office of the Comptroller and Auditor General of Bangladesh, termed it as 'serious financial irregularities.'
Following the audit report, in 2019-20 fiscal, BAPEX made purchases of Tk 1,561,376,734 without the approval of the head of the purchase office, which is a breach of the PPR-2008.
Moreover, when the auditors requested BAPEX to submit the purchase office (PE) approved procurement plan, they were unable to submit the document, as well.
Out of the Tk 156 crore procurement, local purchase (goods and relevant services) comprised about Tk 14 crore (139,014,107 taka to be precise) while international purchase (goods and experts' consultancy) over Tk 132.20 crore. To construct some buildings and facilities, BAPEX had spent Tk 10.03 crore, audit documents show.
The report further states that during the purchases, Section 3 and 7 of the Rule 16 of PPR-2008 were not complied.
The Section 3 of Rule 16 says that the purchaser, at the beginning of any fiscal year, will formulate a separate annual purchase plan under the specific development or revenue project.
And Section 7 stipulates that for any development project or programme, the updated annual purchase plan should be formulated and get approval of the head of purchase office.
However, BAPEX did not comply with any of the rules.
When the audit team inquired about the expenditures, BAPEX authority said they would communicate the matter later to the team. However, no responses were made from BAPEX so far.
Accordingly, the audit team drew attention of the higher authorities to take actions and informed the audit department.