Banks' NPL rises by Tk 11,818cr in Q2 of 2022
BI Report || BusinessInsider
Published: 21:08, 11 August 2022 Update: 18:46, 12 August 2022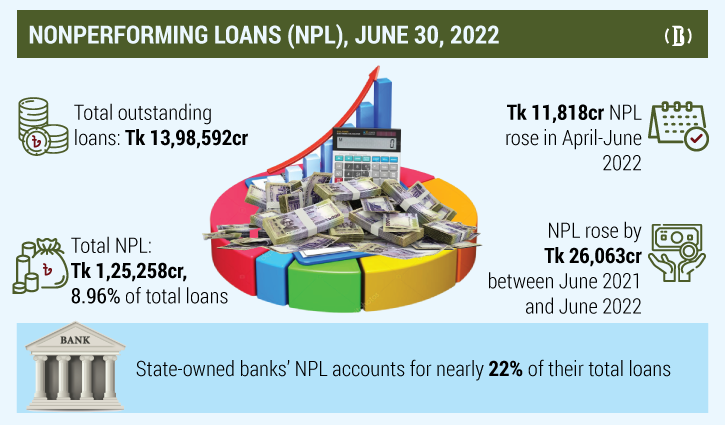 Graphics: Business Insider Bangladesh
Gross non-performing loans (NPLs) of scheduled commercial banks rose by Tk 11,818 crore in a quarter until June 30 this year despite offering relaxed payment rules and rescheduling facilities amid the pandemic and the war.
According to the Bangladesh Bank data released on Thursday, total NPLs at the end of June surged to Tk 1,25,258cr, which was 8.96 percent of the total outstanding loans of the banks.
On June 30, 2021 NPLs of the banking sector were Tk 99,205 crore.
Senior economist Dr AB Mirza Azizul Islam said borrowers will not pay back loans unless special facilities are stopped.
"Defaulters think they will get more facilities in the days to come and that's why they don't want to pay their loans," said Islam, a former finance adviser to a caretaker government.
The economist also believes real NPL will be much higher than the reported figure as huge amounts of loans are stuck with court cases and if the amount is taken into account NPL would be just double.
"Only way to reduce NPL is legal actions against the defaulters," Islam told Business Insider Bangladesh.
When the Covid-19 pandemic hit the country in March 2020, the BB offered a loan repayment moratorium to borrowers first till December 2020 and extended it several times in 2021 to help borrowers not get defaulted. Under this special benefit, if a borrower did not pay back, a bank could not classify the loan.
In January this year, business leaders again demanded more time to repay loans, which they availed under stimulus packages, saying that the country's trade and commerce are still bearing the brunt of the ongoing coronavirus pandemic.
At that time, Md Jashim Uddin, president of the Federation of Bangladesh Chambers of Commerce and Industry (FBCCI), said, "At least 50 percent of the borrowers will be defaulters if the term of the loan classification facility was not extended."
On July 18, 2022 the central bank in a new circular said, defaulters can reschedule their loans by paying only 2.5 percent to 4.5 percent of their outstanding loans, down from the previous 10-30 percent.
Also, the BB has extended the time from two years to at least five years to repay the loans. After regularising loans, a defaulter can also avail of fresh loans.