Gap between interbank and LC rates of dollar reaches record Tk 17
BI Report || BusinessInsider
Published: 21:54, 8 August 2022 Update: 22:39, 8 August 2022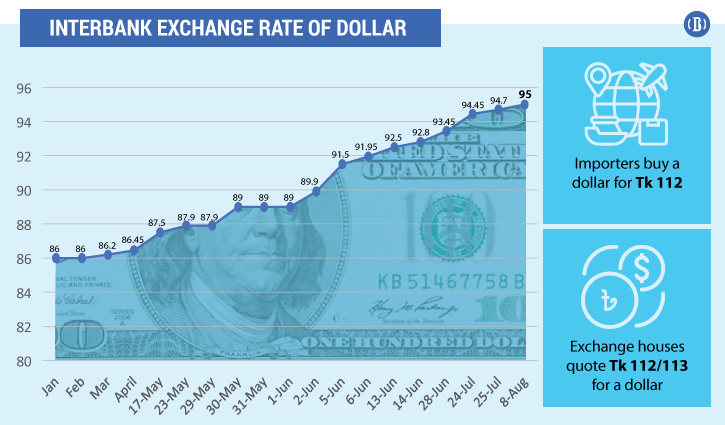 Graphics: Business Insider Bangladesh
The central bank has been depreciating the taka against the dollar many times since May and it devalued the local currency by 30 paisa to Tk 95 a dollar at interbank trade on Monday. Yet, the gap between the interbank and BC sale (settling import bills) is soaring to a record high.
According to treasury officials at different commercial banks, the gap between the interbank and BC sale reached Tk 17 a dollar, up from a maximum of Tk 2 in the usual period.
"Money transfer companies have been quoting dollar price at Tk 112-113. So, no bank can sell the greenback for less than their cost price," said the treasury head of a private commercial bank.
He also said the interbank rate has no impact on the market as banks do not get any dollars here.
To cool down the market, Bangladesh Bank sold around $140 million on Monday to meet the demand of the different banks for the greenback.
Another banker said the volatility in the exchange rate market could come down soon as imports are tightened due to the central bank's initiatives.
The present crisis for the US dollar arose from the rising trade gap, especially since the Russia-Ukraine war began in February. The latest BB data shows the trade gap stood at $33.25 billion in the fiscal year 2021-22 which ended on June 30, up from less than $24 billion a year ago.
Also, remittance, another import source for dollars, declined over 15 percent to $21 billion despite enhancing the incentive to 2.5 percent for remitting money through the banking channel.
Mostafa Kamal, chairman of Meghna Group of Industries (MGI), one of the largest conglomerates and commodity importers in the country, said his business costs have skyrocketed because of the exchange rate.
"We are buying dollars at Tk 112 to settle import bills, but the edible oil prices are set by the authority concerned at Tk 95 a dollar," Kamal told Business Insider Bangladesh on Sunday.
Bangladesh Bank launched a floating exchange rate in 2003, but it was not truly floating as the central bank often intervened in the market to keep the exchange rate stable, which also paid the country off as exporters got good rates when the demand for the greenback was down.
Treasury bankers said for the first time the central bank is feeling the pinch of the floating exchange rate based on the demand and supply.