Disease escalating in champs as 250,000 people mostly children return to Afghanistan from Pakistan
BI Report || BusinessInsider
Published: 01:21, 18 November 2023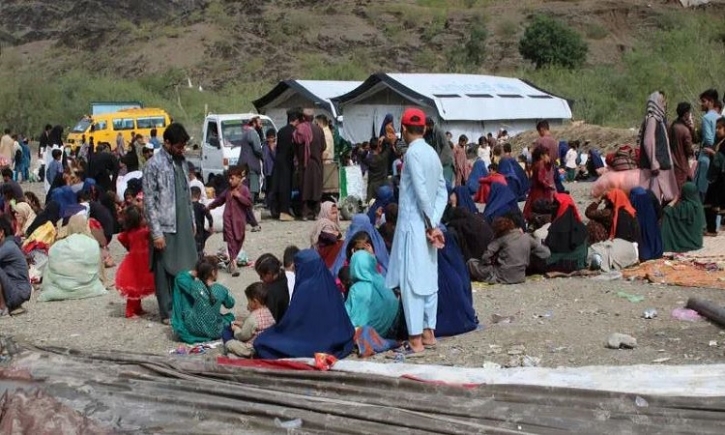 Photo: Collected
Thousands of Afghan refugees who have crossed into Afghanistan from Pakistan in recent weeks are experiencing alarming levels of serious illnesses that are escalating quickly, including life-threatening and highly contagious acute diarrhoea, said Save the Children.
Over 3,000 cases of acute respiratory infections and 1,200 cases of diarrhoea in children have been reported at Save the Children health facilities in the past month.
This is being driven by families having limited or no access to clean water for drinking and washing, and people being forced to defecate in the open due to a lack of toilets.
Some 286,000 people have returned to Afghanistan from Pakistan since 1 October, with 139,000 arriving in November alone, according to the UN, after Pakistan announced that all undocumented foreigners must leave the country voluntarily by 1 November or face deportation.
The vast majority or 80 percent of people returning to Afghanistan are women and children, with nearly one in four returnees children under five, and over 60% of returnees children under 17and below.
Many returnee families have found they have nowhere to live, and no money for food, and are staying in basaic shelters in a desperate and worsening situation, Save the Children said.
The severe respiratory infections are likely due to prolonged exposure to dust storms, enclosed smoky shelters, other sick people, and extreme cold weather, as many families have travelled to Afghanistan in open, overcrowded trucks.
Sharifa, 20, an Afghan woman who recently travelled back to Afghanistan, said:
"The crowd at Torkham is overwhelming and not suitable for children and women. It gets cold at night and children do not have warm clothes. There are also few toilets and not enough drinking water. We want at least a proper shelter for us."
Shireen, 40, is in a camp after returning to Afghanistan. She said:
"In this tent with our family, we have my daughter-in-law and my 18-month-old grandson. My grandson needs warm clothes and a shelter. However, we have spent four nights outside without any shelter or even a tent. My daughter Farzana got sick because of the cold weather and now she has a fever and a cold."
. Fahima, 38, a doctor working with Save the Children, said: "Children's health condition is not good; most have stomach pains. Due to the lack of clean water and proper hygiene facilities, they cannot wash their hands properly. There are no proper clean toilets, and these children are not receiving regular and proper meals. If they stay here for a longer time or if the situation persists and the weather becomes colder, there will be many health risks for the children. It gets cold here at night, and it is difficult to ensure well-being of children inside these tents. This problem can negatively affect the health of both the child and the mother. There is an urgent need to provide warm clothes for children, as well as necessary items such as sanitary pads and underwear for young women. These items are essential to reduce the health risks that affect women and children."
Save the Children Afghanistan has deployed a Mobile Health Team to provide health, nutrition, and psychosocial services to families returning from Pakistan, and built 10 gender-segregated toilets to ensure families are not defecating in the open. It is also providing clean and safe drinking water through about 20 water stations. In addition, Save the Children is establishing child-friendly spaces for children to ensure they have a safe area while their families' documents are processed.
Arshad Malik, Country Director for Save the Children in Afghanistan, said:
"The escalating cases of acute respiratory infections and diarrhoea present a major cause for concern. As the influx of people continues, the challenges associated with providing adequate water and hygiene facilities, particularly for families and girls, become even more pronounced. The urgent need for comprehensive and sustainable solutions is paramount to address the potential health crisis and ensure the well-being of the arriving population.
"These returning families arrive in Afghanistan with virtually nothing and face a grim reality – a stark contrast to the stability they desperately need. Compounded by existing humanitarian crisis, the impending winter intensifies the urgency for immediate assistance. The nation cannot withstand a mass influx of people without collective support."
"Save the Children has been supporting communities and protecting children's rights across Afghanistan since 1976, including during periods of conflict and natural disasters. We have programmes in nine provinces and work with partners in an additional seven provinces. Since August 2021, we've been scaling up our response to support the increasing number of children in need. We are delivering health, nutrition, education, child protection, shelter, water, sanitation and hygiene, and livelihood support."