WHO wants flow of Gaza patients into Egypt
BI Desk || BusinessInsider
Published: 00:27, 18 November 2023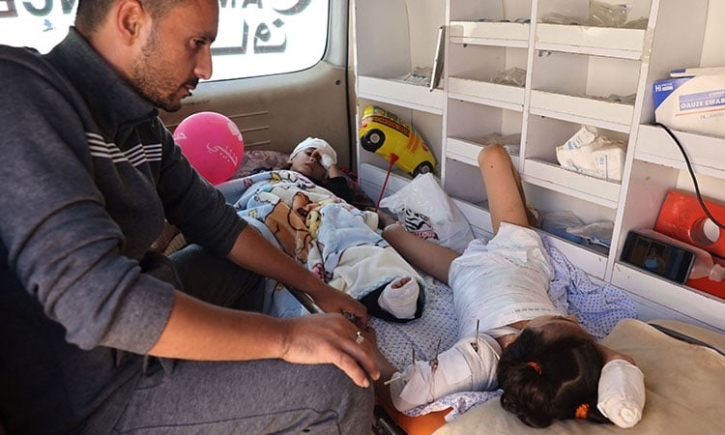 Photo: Collected
The World Health Organization called on Friday for a regular flow of patients to be allowed out of Gaza for treatment in Egypt, to relieve the pressure on overwhelmed hospitals.
The WHO said a system needed to be set up to get priority cases out of the besieged Palestinian territory.
Twenty-five out of 36 hospitals in the Gaza Strip are not functioning and the remainder are struggling to provide services, reports BSS.
"This is clearly not enough to support the endless needs arising due to the hostilities," said Richard Peeperkorn, the WHO representative in the occupied Palestinian territories.
Addressing a press briefing in Geneva, he called for daily sustained, orderly, unimpeded and safe medical evacuations of critically injured and sick patients into neighbouring Egypt.
Speaking via video-link from Jerusalem, Peeperkorn said 50 to 60 patients a day ought to be transferred into Egypt, "where they will get -- and they deserve -- the right treatment and care".
Moving priority patients to Egypt "will also relieve part of the overwhelmed current health sector so that we can address the other needs in a better way", he said.
Israeli troops carried out building-by-building searches at Gaza's main hospital, Al-Shifa, on Friday, after a communications blackout in the Palestinian enclave compounded fears for civilians trapped inside the facility.
Israel has vowed to "crush" Hamas in response to the group's October 7 attack, which killed 1,200 people, most of them civilians, and saw about 240 taken hostage, according to Israeli officials.
The Israeli military's aerial bombing and ground campaign in Gaza has killed 11,500 people, including thousands of children, according to the territory's Hamas-run health ministry.
"We are, as WHO, extremely worried for the safety of patients, health and workers, not just at Al-Shifa but other hospitals as well," said Peeperkorn.
"Health facilities, health workers, ambulances and patients must be safeguarded."
Peeperkorn said that prior to the conflict, there were around 3,500 hospital beds across Gaza, and now there are an estimated 1,400.
"Based on our plans, the needs at the moment would be 5,000 beds," he said.
He said the communications blackout had made the WHO's contact with its staff on the ground in Gaza "very problematic".
Peeperkorn also said he was extremely concerned about the spread of diseases in the Palestinian territory, including acute respiratory infections, chicken pox, skin rashes and hepatitis A.