FAO DG makes urgent call for action on food security at sustainable development conference
Published: 15:08, 21 September 2023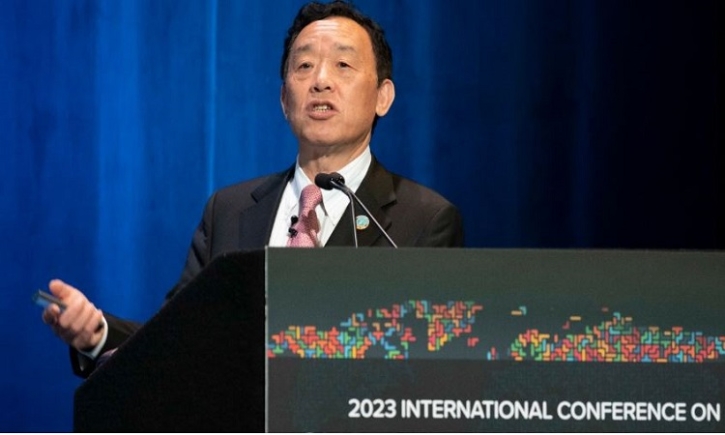 Photo: Collected
Director-General of the Food and Agriculture Organization of the United Nations (FAO), QU Dongyu, issued a powerful global call to action, urging immediate steps to address escalating food security concerns and pressing environmental issues.
He made the call in a keynote speech delivered at the 11th annual International Development Conference of Sustainable Development (ICSD) on Wednesday.
Qu's lecture focused on the critical issue of global food security. He began by acknowledging FAO's historic role in addressing the link between poverty and malnutrition while emphasizing the Organization's dedication to nutrition.
Transitioning to the present, he sounded an alarm about the escalating and often overlapping challenges faced by the world.
The FAO Director-General highlighted the troubling trend of increasing global hunger over the past seven years, exacerbated by the Covid-19 pandemic and ongoing conflicts.
Projections made in the latest FAO-led State of the Food Security and Nutrition in the World (SOFI) report indicate that nearly 600 million people may continue to experience hunger in 2030. Child stunting also remains a pressing concern, and obesity rates continue to rise, surpassing hunger in some regions.
The environmental toll of agrifood systems
Qu also discussed the current detrimental environmental impacts of agrifood systems as they are contributing to food waste, air pollution, greenhouse gas emissions, biodiversity loss, and growing social inequalities.
The economic and environmental costs associated with these issues are severe, and amount to trillions of dollars.
In 2020, agrifood systems emitted 16 billion tonnes of CO2, with various sources of emissions. Meanwhile, more than 30 percent of total global land is degraded, over 20 percent of the world's aquifers are overexploited, and agrobiodiversity is threatened.
There are circular, interconnected impacts across agrifood and other systems, including environmental and health systems.
In this context, the FAO Director-General issued a compelling call to action, emphasizing the urgent need to transform agrifood systems for carbon neutrality.
This transformation requires improved governance of natural resources, increased productivity (producing more with less inputs), improved consumption patterns and behavior, sustainable production practices, and cleaner energy use.
The importance of FAO and the Four Betters
Qu reiterated the importance of the FAO's Strategic Framework 2022-31, centered on the "Four Betters" better production, better nutrition, a better environment, and a better life.
He explained that the concept of the "Four Betters" serves as an organizational principle within this framework, reflecting the interconnected economic, social, and environmental dimensions of agrifood systems.
These principles encourage a strategic and systems-oriented approach across all FAO interventions.
Qu also introduced four cross-cutting "accelerators" – technology, innovation, data, and complementary elements such as governance, human capital, and institutions – which should be integrated into programmatic interventions to expedite progress toward achieving the Sustainable Development Goals (SDGs).
The FAO Director-General further emphasized the imperative need for a comprehensive agrifood systems strategy to address the escalating threats faced by the world.
He highlighted the importance of immediate action to protect livelihoods, ensure the sustainability of our planet, and secure lasting outcomes.
Qu referred to the challenge of the need to feed 10 billion people by 2050 and highlighted the paramount importance of accelerating the impact of FAO's programmatic interventions while minimizing trade-offs.
FAO has identified 20 priority program areas aligned with the "Four Betters". Key priorities include green innovation, One Health, equitable access for small-scale producers, digital agriculture, healthy diets for all, restoring ecosystems, reducing food loss and waste, and promoting transparent markets and trade.
FAO's priorities extend to gender equality, rural women's empowerment, sustainable urban food systems, and resilient agrifood systems.
Special initiatives for scaling-up investment and the Hand-in-Hand initiative, are dedicated to bringing collective action to scale, facilitating transformative change within agrifood systems.
High-Level Plenary at Sustainable Development Summit
The ICSD's high-level plenary, held at Columbia University, which featured the FAO Director-General's keynote intervention, drew over 800 in-person attendees, including students, faculty, academia, private sector representatives, and government leaders from the New York region.
Additionally, more than 1,000 participants registered online. The plenary also featured distinguished speakers such as the President of the Democratic Republic of Congo, Félix-Antoine Tshisekedi Tshilombo, Amina Mohammed, UN Deputy Secretary-General, and Gerd Müller, Director General of the United Nations Industrial Development Organization (UNIDO).
The ICSD is a premier international conference that convenes experts, academics, government officials, civil society representatives, UN agencies, and private sector leaders to collaborate on practical solutions for achieving the Sustainable Development Goals (SDGs).
The event facilitates discussions on various topics related to sustainable development, including gender equity, climate change, and economic development.