Up to 783mn people do not know when – or if – they will eat again: UN food chief
BI Report || BusinessInsider
Published: 14:41, 15 September 2023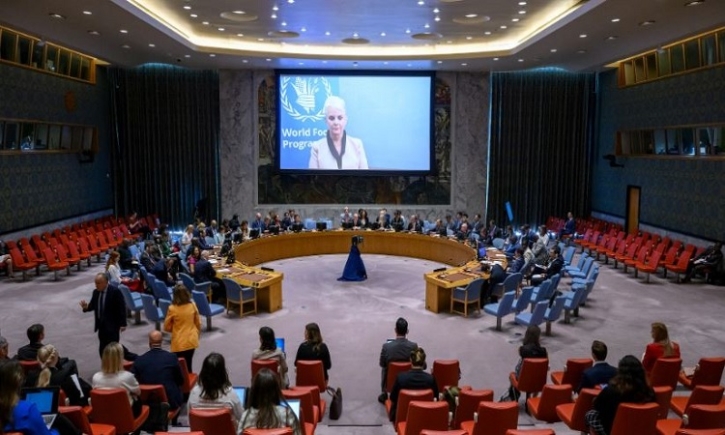 Photo: Collected
World Food Programme's Executive Director Cindy McCain has said that up to 783 million people across the world do not know when – or if – they will eat again.
She said this while addressing the Security Council's open debate on advancing public-private humanitarian partnerships on Thursday.
The UN food chief also demanded for the World Food Programme's services to rise relentlessly and this is happening right across the UN and the wider humanitarian system.
War, economic turmoil and increasingly, climate change and environmental degradation – are driving millions of people into poverty and despair each year, she said.
"Up to 783 million people do not know when – or if – they will eat again. And WFP estimates that nearly 47 million people in over 50 countries are in IPC phase 4, just one step away from famine."
The number of children caught in the grip of starvation is overwhelming: a staggering 45 million under 5 years old are now estimated to have acute malnutrition.
"I wish I could tell Council members that the surging hunger seen in many parts of the world stems from one-off causes, and will reduce as circumstances change. But it won't," she said.
"We are now living with a series of concurrent and long-term crises that will continue to fuel global humanitarian needs. And this is happening just as funding for humanitarian relief operations is drying up. At WFP, we have had to make the agonizing choice to cut food rations for millions of vulnerable people. More cuts are on the way."
This is the humanitarian community's new reality – our new normal - and we will be dealing with the fallout for years to come.
But this does not mean we are powerless to end this human suffering. And history tells us that the private sector has a fundamental role.
Over the past two hundred years, the great strides made in reducing global poverty have largely been thanks to economic growth powered by the private sector.
More recently, diseases such as HIV/AIDS and tuberculosis have been brought under control with effective public-private partnerships: companies developed the medicines and vaccines, while governments and humanitarian agencies got them where they needed to be.
As we confront the new reality of sustained humanitarian needs and shrinking budgets, it's time to rethink how we engage and find new models of cross-sectoral partnerships.
"We need business leaders' help to develop the smart innovations and solutions required to build resilience, and tackle the root causes of hunger and poverty, so we can reduce humanitarian needs over the long term," she said.
Private enterprises must lead the efforts to build essential infrastructure, supply affordable goods and services, spur innovation, expand skills and create new employment opportunities.
"And it's essential that local businesses and private enterprise are front and center. Everywhere WFP has operations, we rely on the ingenuity and entrepreneurialism of private sector partners to help us deliver on the ground."
Everyone benefits from this approach. Reducing poverty and hunger is a necessary precondition for healthy workforces, functioning markets, and sustainable economic growth and prosperity. When people and communities thrive, so do businesses.
"At WFP, we have a track record of partnering with companies that share our vision of a world without hunger – and we are proud they trust us to deliver it."
Partners such as Amazon, DHL and Takeda have worked with us to reinforce our world-class supply chain and logistics networks, ensuring they serve the wider humanitarian community even more effectively.
"We have also worked with analytics firms to improve our data analysis capabilities. With food companies to improve the nutrition of our food baskets. And with Artificial Intelligence experts on a satellite monitoring system to remotely assess disaster zones."
"In addition, WFP uses its own economic and purchasing power to support business expansion, job creation and community resilience in the countries where we operate. Last year, we sourced 50 percent of our food commodities locally and regionally, injecting $1.6 billion into local markets."
"We are also the world's largest humanitarian provider of cash and digital payments, distributing over $3.3 billion to 56 million vulnerable people in 72 countries last year. Capital which supports local businesses and economies."
This is transformational. This program has its roots in the innovative partnership launched when WFP and Mastercard joined forces over a decade ago.
Mastercard shared its payments and technology expertise with WFP to help us improve and scale up our systems for delivering digital food vouchers. The Mastercard team has been supporting our mission to end hunger ever since – so thank you, Michael.
But there is still so much more the humanitarian, private and public sectors can achieve by working together in partnership. Powering innovation in science and technology. Building new capacities and sharing expertise and acumen. Mobilizing the resources and political will needed to confront the new reality we are living with.
None of us has all the answers. But our sectors have many attributes in common: a clear focus, a strong commitment to delivering results, and a sense of urgency about the task at hand.
"Our collective challenge is to ramp up the ambitious, multi-sectoral partnerships that will enable us to tackle hunger and poverty effectively, and reduce humanitarian needs over the long term."
The Security Council's responsibility for international peace and security will determine the success of this shared endeavor.
In the most fragile places – such as Somalia, which I visited in May – the private sector is often what keeps extremely vulnerable populations afloat.
Yet this also leaves them the most vulnerable to shocks like the war in Ukraine or sanctions regimes. The Council's responsibility to protect this space is therefore all the more important.
"So I urge members to be resolute in using its powers and influence to create the broader conditions that will allow public-private partnerships to flourish."
Member State governments should also use their convening power and public policy levers to create a conducive environment for public-private partnerships, so they can drive grassroots development and be a forceful engine of opportunity for vulnerable communities.
The international financial institutions can support these efforts with capital finance, especially in relation to fragile states.
Finally, and critically, we need the private sector to step up, and embrace their responsibility to help build the societies that enable their enterprises to succeed.
"If we are serious about tackling climate change; delivering decent sanitation, health and housing; and opening up new education and employment opportunities – we need business on board."
Private sector profitability can, and must, go hand-in-hand with the Sustainable Development Goals.
"I know from my own experience it makes good business sense. So let's work together to build new models of collaboration, encompassing in-kind support; technology transfers; skills and personnel exchanges; cutting-edge program design; and rigorous systems of evidence and impact evaluation."
"The road ahead is long, and the challenges are daunting. But we still have an opportunity to halt the relentless growth in global humanitarian needs. With determination, innovation, and above all cross-sectoral collaboration, we can successfully navigate our way through this new and challenging landscape. And bring new hope to vulnerable communities around the world."