UN chief calls on EU to help world get 'back on track'
BI Report || BusinessInsider
Published: 12:02, 24 March 2023 Update: 12:03, 24 March 2023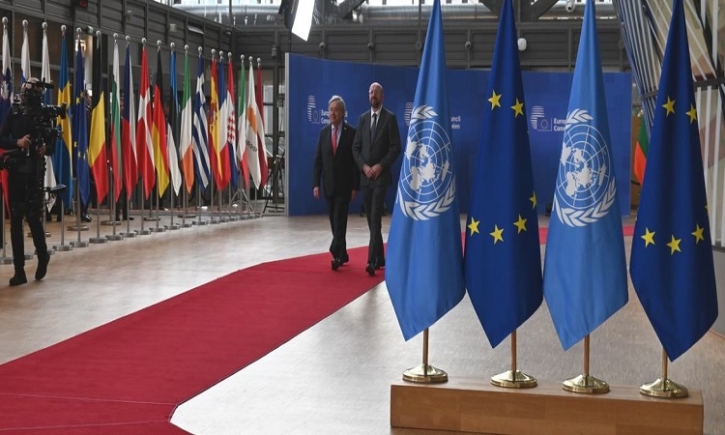 Photo: Collected
UN Secretary-General António Guterres attended a European Union (EU) summit in Brussels Thursday, seeking support for action on climate change, sustainable development and addressing the ongoing challenges linked to Russia's invasion of Ukraine.
In a joint press encounter with the President of the European Council, Charles Michel, Guterres called on EU leaders to help the world "get back on track" towards the Sustainable Development Goals (SDGs) at a time when progress in so many parts of the world had been reversed.
"We need an acceleration agenda," he said. Guterres also highlighted the need for financial system reforms and urgent climate action.
He said the Russian invasion of Ukraine is causing "tremendous suffering" to the Ukrainian people, but also having a "huge impact" around the world.
Guterres also thanked the EU for its strong support of the UN and multilateralism overall, calling for greater cooperation in implementing his "Our Common Agenda" blueprint, and next year's Summit of the Future.
On Ukraine, he stressed the need for a "just peace" in line with the UN Charter, international law overall, and the General Assembly's resolution.
On climate change, Guterres stressed the importance of his agenda to accelerate specific actions from all parties to implement recommendations of Monday's IPCC report, "to keep the 1.5-degree limit alive."
He welcomed the European Green Deal as a significant step in this direction and encouraged the EU to scale up its financial and technological cooperation with emerging and developing economies to close the emissions gap and deliver climate justice in the form of green jobs, strengthening adaptation, implementing the loss and damage fund, and protecting vulnerable communities everywhere.
The secretary-general expressed concerns about the "perfect storm" facing many developing countries from the Covid crisis, and the cost of living crisis stemming from the invasion of Ukraine and accelerating climate change.
He underlined the importance of putting in place measures for a more equitable economic and financial system, including through banking reform, more effective debt relief, and an SDG stimulus.