Argentines struggle to make ends meet amid 100% inflation
AP/UNB || BusinessInsider
Published: 16:24, 17 March 2023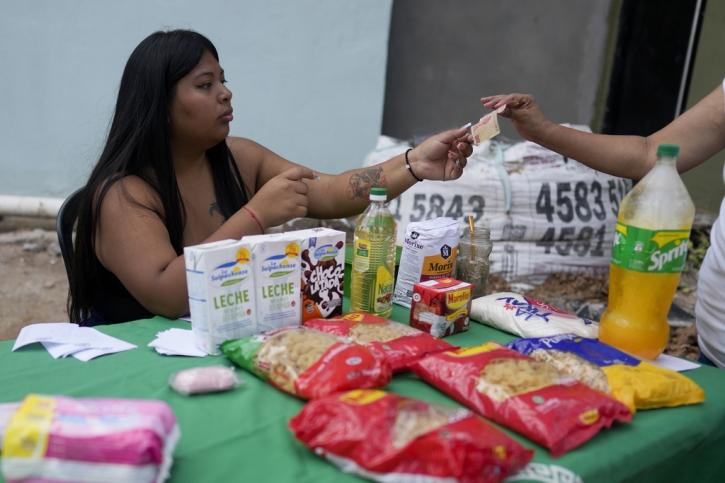 Photo: Collected
Jesica Fernández used to join seven family members every weekend for a large beef barbeque. Beef is no longer on the menu, and now they're more likely to eat spaghetti or chicken wings.
In beef-loving Argentina, barbeques nowadays happen only on birthdays or special occasions, Fernández said.
Fernández, 31, is among millions of Argentines struggling to make ends meet as the country's annual inflation rate clocked in at an annual rate of 102.5 percent in February, the first time it has reached triple digits since 1991.
She was shopping at a market sponsored by the Lomas de Zamora municipality, some 25 kilometers (15 miles) from the capital, where businesses offer basic goods at cheaper prices in exchange for the free retail space.
"We buy less beef and we buy fewer things. In reality, you can't give yourself the luxuries that you could before," Fernández said,
The country's Indec statistics agency said this week that consumer prices increased 6.6% in February from the previous month, a higher number than expected, on top of years of double-digit annual inflation over the past decade.
Food was among items that increased the most in February, rising 9.8% from January, in part due to a punishing drought that has pushed prices of meat and other goods higher.
"The situation is very difficult, and every day it gets worse," said Daisy Choque Guevara, 42.
Mabel Espinosa, 37, was walking around the market with her 10-day old baby, Gael, hoping to find deals to buy enough food for herself, her husband and six children.
"The money isn't enough for anything," Espinosa said. "Barbeques? Forget about it."
President Alberto Fernández has been struggling to put the brakes on the country's soaring inflation rate that will undoubtedly be a key issue in the presidential campaign ahead of October elections.
Argentines have long suffered large bouts of rising prices, worse than elsewhere, because of the government's penchant for printing money to finance spending.
That trend accelerated during the Covid-19 pandemic while a sharp depreciation of the local currency also pushed prices higher.
President Alberto Fernández's center-left administration has tried to rein in the spiraling prices through price controls that have largely failed.
Much of the opposition says Argentina needs a broader stabilization plan that includes a sharp decrease in spending.
"We obviously think the inflation data is bad, very bad, plus it was unexpected," presidential spokeswoman Gabriela Cerruti said Thursday.
"The government remains firmly committed to controlling prices, controlling inflation, reducing inflation, and not allowing prices to continue increasing."
Espinosa, however, is not convinced things will improve, at least in the short term.
"I call it resignation, nothing will change … Why get angry?" she said. "Today you get something at one price and tomorrow it will be another price, but it doesn't matter, you have to pay for it because you need it."
People have to make cuts where they can.
"For example, if I could buy two yogurts before, now I can only buy one," said Roxana Cabrera, 38. "It's very difficult to buy now, you have to search for prices."
Anything that isn't absolutely essential is left for a later date.
"I was able to buy clothes before, for example, but not anymore," Cabrera said. "Now I can only buy food."
For some, the choices are even more drastic.
"We don't eat dinner," said Yanet Nazario, who lives with three of her children and seven grandchildren in an impoverished neighborhood in Buenos Aires.
She was buying flour and soap from an improvised stand set up by a cooperative in her neighborhood that sells a few basic goods at lower prices than the stores.
"There's a lot of sacrifice now because the money you make isn't enough, you have to work a lot more, we have to go to soup kitchens," Nazario said.
The children in the household get dinner from soup kitchens that now limit their food to only young people because overall demand has become so high.
"We adults only drink a cup of tea" for dinner, Nazario said. "The next day we'll skip breakfast, and have lunch."