Mass shooting suspect kills 10 in California's Asian city
AP/UNB || BusinessInsider
Published: 21:21, 22 January 2023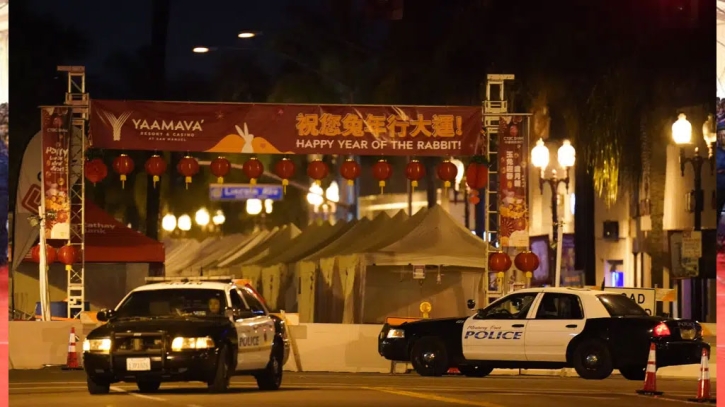 Photo: Collected
A gunman killed 10 people and wounded 10 others at a Los Angeles-area ballroom dance club following a Lunar New Year celebration, setting off a manhunt for the suspect in the fifth mass killing in the US this month.
Capt Andrew Meyer of the Los Angeles Sheriff's Department said Sunday that the wounded were taken to hospitals and their conditions range from stable to critical. He said the 10 people died at the scene in the city of Monterey Park.
Meyer said people were "pouring out of the location screaming" when officers arrived at around 10:30pm Saturday. He said officers then went into the ballroom and found victims as firefighters treated the wounded.
Meyer gave no description of the male suspect or the weapon he used, or why police gave no information on the shooting for hours while the shooter apparently remained on the run.
He also said police were investigating another incident in the nearby city of Alhambra, where a similar business, the Lai Lai Ballroom, had police tape across its front door and an officer guarding it.
Detectives could be seen working near the open back door, where a woman wearing gloves was carefully examining the door handle as though checking for prints. Officials gave no details on what had happened and it was unclear if this was the incident investigators were examining to see if there was a connection to the Monterey Park shooting.
Meyer said it's too early in the investigation to know if the gunman knew anyone at the ballroom or if whether it was a hate crime.
"We will look at every angle," Meyer said.
The shooting happened in the heart of downtown Monterey Park where red lanterns decorated the streets for the Lunar New Year festivities. A police car was parked near a large banner that proclaimed: "Happy Year of the Rabbit!"
The Lunar New Year celebration in Monterey Park is one of California's largest and had attracted tens of thousands throughout the day. Most of the residents of Monterey Park, a city of about 60,000 people that sits at the eastern edge of Los Angeles, are Asian immigrants from China or first-generation Asian Americans.
Two days of festivities, which have been attended by as many as 100,000 people in past years, were planned. But officials canceled Sunday's events following the shooting.