Afghanistan: 'I drug my hungry children to help them sleep'
BI Desk || BusinessInsider
Published: 13:28, 24 November 2022 Update: 13:30, 24 November 2022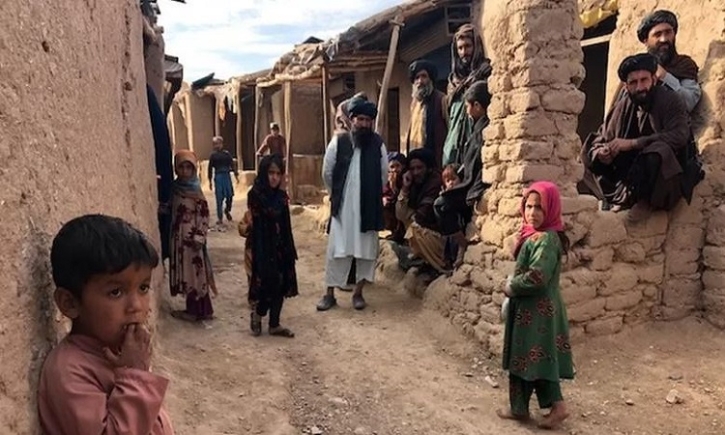 The men in this area outside Herat are struggling to find work. Photo: BBC
The people in Afghanistan are giving their hungry children medicines to sedate them and many others have sold their daughters and organs to survive.
In the second winter, since the Taliban took over and foreign funds were frozen, millions are a step away from famine.
"Our children keep crying and they don't sleep. We have no food. So, we go to the pharmacy, get tablets and give it to our children so that they feel drowsy," BBC reports quoting one Abdul Wahab.
Wahab lives outside Herat, the third largest city of Afghanistan, in a settlement of thousands of little mud-made houses that have grown over decades, filled with people who became homeless due to war and natural disasters.
Wahab is among a group of nearly a dozen men who gathered around us. We asked how many people were giving drugs to their children to sedate them. "A lot of us, all of us," they replied.
Ghulam Hazrat fell into the pocket of his tunic and pulled out a strip of tablets. These are usually prescribed to treat anxiety disorders.
Hazrat said he has six children, the youngest one a year old. "I even give it to him," he added.
Others showed us strips of escilatopram and sertraline tablets they said they were giving their children.
When these tablets are given to young children who do not get adequate nutrition, drugs such as these can cause liver damage, along with several problems like chronic fatigue, sleep and behaviour disorders, BBC after talking with doctors.
At a local pharmacy, we found that you can buy five tablets of the drugs being used for 10 Afghanis (about 10 US cents), or the price of a piece of bread.
Most families we met were sharing a few pieces of bread between them each day. One woman told us they ate dry bread in the morning, and at night they dipped it in water to make it moist.
The UN has said a humanitarian "catastrophe" is now unfolding in Afghanistan.
A majority of the men in the area outside Herat work as daily wage labourers. They have been leading difficult lives for years.
But when the Taliban took over last August, with no international recognition for the new de-facto government, foreign funds flowing into Afghanistan were frozen, triggering an economic collapse that left the men with no work on most days.
On a rare day, they do find work, they make roughly 100 Afghanis, or just over $1 (£0.83).
Everywhere we went, we found people being forced to take extreme steps to save their families from hunger.
Ammar (not his real name) said he had surgery to remove his kidney three months ago and showed us a nine-inch scar - stitch marks still a bit pink - running across his abdomen from the front of his body to the back.
He's in his twenties, in what should have been the prime of his life. We're hiding his identity to protect him.
"There was no way out. I had heard you could sell a kidney at a local hospital. I went there and told them I wanted to. Some weeks later I got a phone call asking me to come to the hospital," he said.
"They did some tests, then they injected me with something that made me unconscious. I was scared but I had no option."