Russia smuggling Ukrainian grain to help pay for war: AP probe
BI Desk || BusinessInsider
Published: 19:22, 3 October 2022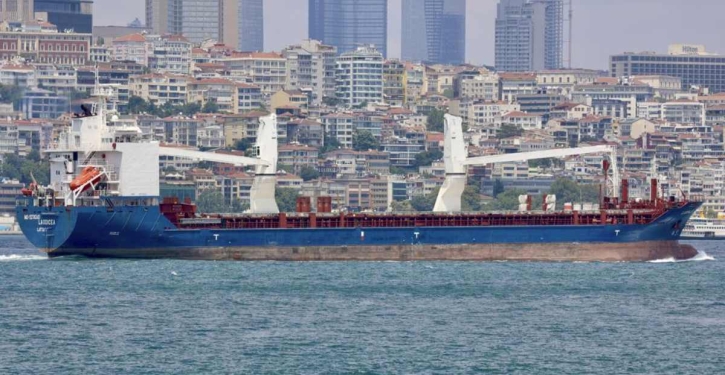 Photo: Collected
When the bulk cargo ship Laodicea docked in Lebanon last summer, Ukrainian diplomats said the vessel was carrying grain stolen by Russia and urged Lebanese officials to impound the ship.
Moscow called the allegation "false and baseless," and Lebanon's prosecutor general sided with the Kremlin and declared that the 10,000 tons of barley and wheat flour wasn't stolen and allowed the ship to unload.
But an investigation by The Associated Press and the PBS series "Frontline" has found the Laodicea, owned by Syria, is part of a sophisticated Russian-run smuggling operation that has used falsified manifests and seaborne subterfuge to steal Ukrainian grain worth at least $530 million — cash that has helped feed President Vladimir Putin's war machine.
AP used satellite imagery and marine radio transponder data to track three dozen ships making more than 50 voyages carrying grain from Russian-occupied areas of Ukraine to ports in Turkey, Syria, Lebanon and other countries. Reporters reviewed shipping manifests, searched social media posts, and interviewed farmers, shippers and corporate officials to uncover the details of the massive smuggling operation.
This story is part of an AP/FRONTLINE investigation that includes the War Crimes Watch Ukraine interactive experience and and upcoming documentary, "Putin's Attack on Ukraine: Documenting War Crimes," which premieres 10/9c October 25 on PBS.
The ongoing theft, which legal experts say is a potential war crime, is being carried out by wealthy businessmen and state-owned companies in Russia and Syria, some of them already facing financial sanctions from the United States and European Union.
Meanwhile, the Russian military has attacked farms, grain silos and shipping facilities still under Ukrainian control with artillery and air strikes, destroying food, driving up prices and reducing the flow of grain from a country long known as the breadbasket of Europe.
The Russians "have an absolute obligation to ensure that civilians are cared for and to not deprive them their ability of a livelihood and an ability to feed themselves," said David Crane, a veteran prosecutor who has been involved in numerous international war crime investigations. "It's just pure pillaging and looting, and that is also an actionable offense under international military law."
The grain and flour carried by the 138-metre-long (453 feet) Laodicea likely started its journey in the southern Ukrainian city of Melitopol, which Russia seized in the early days of the war.
Video posted to social media on July 9 shows a train pulling up to the Melitopol Elevator, a massive grain storage facility, with green hopper cars marked with the name of the Russian company Agro-Fregat LLC in big yellow letters, along with a logo in the shape of a spike of wheat.
Russian occupation official Andrey Siguta held a news conference at the depot the following week where he said the grain would "provide food security" for Russia-controlled regions in Ukraine, and that his administration would "evaluate the harvest and determine how much will be for sale."
As he spoke, a masked soldier armed with an assault rifle stood guard as trucks unloaded wheat at the facility to be milled. Workers loaded flour into large white bags like those delivered by the Laodicea to Lebanon three weeks later.
Siguta, along with four other top Russian occupation officials, was sanctioned by the U.S. government on Sept. 15 for overseeing the theft and export of Ukranian grain.
Putin signed treaties Friday to annex four occupied regions of Ukraine into the Russian Federation, in defiance of international law. The United States and European Union immediately rejected "the illegal annexation."
Melitopol Mayor Ivan Fedorov told AP the occupiers are moving vast quantities of grain from the region by train and truck to ports in Russia and Crimea, a strategic Ukrainian peninsula that Russia has occupied since 2014. Despite Russian claims to have annexed Crimea, the United Nations ruled that land grab was also illegal.
Videos posted on social media in recent months show a steady stream of grain transport trucks moving south through occupied areas of Ukraine with the letter "Z" painted on their sides, a wartime symbol for Russia and its military forces. Agro-Fregat train cars have been recorded rolling through the Crimean port town of Feodosia, where satellite imagery shows trucks and trains lined up as grain was being loaded onto ships.
The Kremlin has denied stealing any grain, but Russia's state-run news agency Tass reported on June 16 that Ukrainian grain was being trucked to Crimea, resulting in long lines at border checkpoints. Tass later reported that grain from Melitopol had arrived in Crimea and that additional shipments were expected, bound for customers in the Middle East and Africa.
A July 11 satellite image shows the Laodicea tied up at a pier in Feodosia. The ship's radio transponder was turned off and its cargo holds were open, being filled with a white substance from waiting trucks. Two weeks later, when it arrived at the Lebanese port city Tripoli, it claimed to be carrying grain from a small Russian port on the other side of the Black Sea.
A copy of the ship's manifests obtained by AP claimed its port of origin was Kavkaz, Russia. Its cargo was listed as nearly 10,000 metric tons of "Russian Barley and Russian Flour in Bags." The shipper was listed as Agro-Fregat and the buyer was Loyal Agro Co Ltd., a wholesale grocer headquartered in Turkey.
Agro-Fregat didn't respond to emailed questions and soon after AP's inquiry, the company's website appears to have been taken down. A phone number that had been listed on the website was out of service last week.
A spokesman for Loyal Agro said the company took delivery of 5,000 tons of flour and the rest of the ship's cargo went to Tartus, Syria.
"We reached an agreement with Russia, the flour came from Russia," said Muhammed Cuma, a spokesman for the company. "If the flour was stolen, then the Lebanese authorities would not have allowed it (to be imported)."
But the Laodicea couldn't have picked up its cargo in Kavkaz, the Russian port listed on the manifest. The ship's hull, which reaches 8 metres (26 feet) below the surface, would run aground in the relatively shallow port, which according to Russia's transport regulator can only accommodate ships with a maximum depth of 5.3 metres (17.5 feet).