'Catastrophic' floods in Florida as hurricane lands
BI Desk || BusinessInsider
Published: 07:35, 29 September 2022 Update: 14:58, 29 September 2022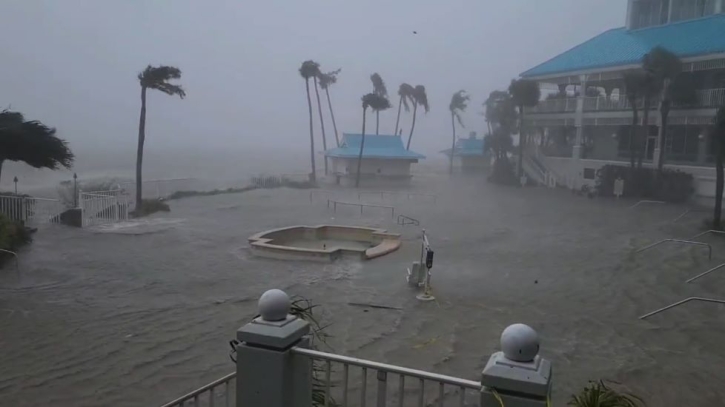 Hurriacane Ian causes flooding to Florida locations. Photo: Collected.
Hurricane Ian, a powerful category four storm, is bringing severe flooding, high winds and storm surges to the Florida coast.
It made landfall on Wednesday afternoon with maximum sustained wind speeds of 241km/h (150mph) near the city of Fort Myers, reports BBC.
Florida Governor Ron DeSantis warns people in the storm's path to get ready for "a nasty, nasty" couple of days.
US Border Patrol is looking for up to 23 migrants missing after their ship sank during the storm.
More than 1.8 million customers in Florida have no electricity as a result of the hurricane.
The hurricane barrelled through Cuba on Tuesday, killing two people and shattering the country's electrical grid.
Meanwhile, the latest bulletin from the National Hurricane Center says that Ian is currently located about 95 miles (150km) south-west of Orlando, with maximum sustained winds of 115mph.
The storm is moving slowly north-east, going at around eight miles per hour, and is forecast to travel through the state and emerge into the Atlantic Ocean by Wednesday night or Thursday morning.
Ian is currently a category three hurricane. Hurricane-force winds extend outwards up to 50 miles from the centre.
Ian will still be at hurricane strength when it reaches Georgia and South Carolina on Friday, the NHC said.
National Public Radio: The National Hurricane Center's Acting Director Jamie Rhome said in an advisory that the time for evacuation has long passed. Those who remain in the storm's path need to hunker down in the center of their home and prepare for sustained devastating winds.
The hurricane's eyewall reached Sanibel and Captiva islands, west of Fort Myers, shortly after noon. A webcam on Fort Myers Beach showed palm trees bending in the wind as waves toss furniture around in the surf.
Ian is forecast to continue making its way northeast across Florida. The situation on the ground will likely get worse before it gets better, as high tide isn't until 7:06 p.m. Wednesday, which will contribute to storm surge conditions.
The storm is expected to weaken after landfall, but could be near hurricane strength as it makes its way over Florida's east coast on Thursday, the NHC said Ian will continue north toward Northeastern Florida, Georgia and South Carolina on Friday.