Putin warning: What does Russian military call-up mean for Ukraine?
BI Desk || BusinessInsider
Published: 19:41, 21 September 2022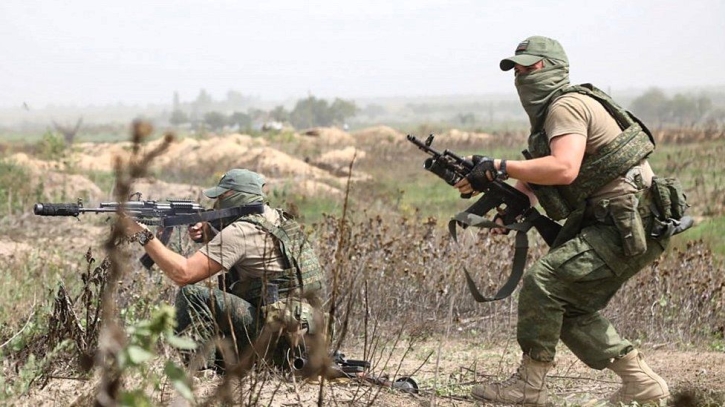 Russian troops in Kherson, Ukraine. Photo courtesy: BBC.
Russian President Vladimir Putin has ordered a partial mobilisation to reinforce his troops in Ukraine after major combat setbacks this month. In an address to the nation, he said Russia was directly threatened with "disintegration" by the Western powers backing the Kyiv government.
He also warned Nato that nuclear-armed Russia could use any weapons in its armoury against what he called Western "nuclear blackmail", reports BBC.
His message came a day after Russian-installed leaders in four regions of eastern and southern Ukraine announced plans for so-called referendums - starting this week - on joining Russia. Crimea was annexed by Russia after just such a move in 2014.
What does mobilisation mean in practice?
Russia plans to call up about 300,000 reservists - that is, people who have had military training and, Vladimir Putin stressed, have specialist skills needed in the Ukraine conflict. They will include many reserve officers, including some over 60, pulled in from retirement.
Russia could in theory mobilise some 25 million people for military service, but that is not yet being considered. Both President Putin and Defence Minister Sergei Shoigu stressed that conscripts would not be sent to fight in Ukraine.
Mr Shoigu said the extra troops were required to defend a front line stretching for some 1,000km (600 miles).
The mobilisation will be spread over months - and Mr Putin has said previously that Russia is prepared for a long fight. Reuters news agency says it is Russia's first mobilisation since World War Two, but the Kremlin did send thousands of conscripts to fight in Afghanistan in the 1980s, and later in Chechnya, in the North Caucasus.
Many poorly-trained conscripts were killed in those costly wars, and this time the Kremlin appears anxious to avoid fuelling anti-war sentiment.
Are Russia's forces stronger than Ukraine's?
Russia's military is numerically superior to Ukraine's, but Ukraine's battlefield tactics and precision Western weapons have narrowed that gap.
Russia's initial invasion force in February numbered about 190,000 troops, in addition to thousands of pro-Russian fighters in the Donbas region.
The Kremlin launched a massive recruitment drive, offering big financial incentives. So extra troops were drafted in, especially from poor regions of Siberia and the Caucasus, including experienced Chechen fighters.
Russia has a normal limit of just over a million military personnel and almost 900,000 civilian staff - but last month President Putin signed a decree to recruit 137,000 more.
Currently Russian men aged 18-27 are obliged to do military service, usually for one year, but there are many exemptions on medical grounds or for students.
Russia initially denied sending conscript soldiers to Ukraine, but several officers were disciplined after cases came to light of conscripts being forced to sign contracts. President Putin then insisted no conscripts would be sent into combat.
Before the invasion Ukraine's military numbers were much smaller - about 196,600 active troops. But Kyiv ordered a mass mobilisation, which has boosted those numbers.
Why change things now?
Ukraine's big counter-offensive in the northern Kharkiv region has put the Kremlin on the back foot, Western analysts and politicians say - which explains Vladimir Putin's latest move.
Defence Minister Shoigu gave a new death toll on Wednesday - 5,937 Russian troops killed. But that is still far below the estimate of 25,000 dead given by the UK defence ministry in June, while Ukraine claims the figure is about 50,000.
It has emerged that Russia is recruiting prisoners to fight, as it struggles with its heavy losses. In the 1979-1989 war in Afghanistan the Soviet military lost about 15,000 troops.
BBC Russian has established that Russia's losses in Ukraine include more than 1,000 elite officers, including many pilots, intelligence experts and special