Japan to allow foreign tourists from June 6
BI Desk || BusinessInsider
Published: 16:41, 26 May 2022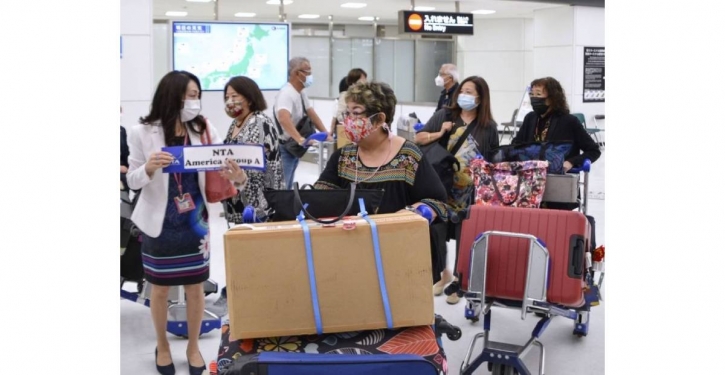 Photo: Collected
The government of Japan will allow tourists to enter in Japan on package tours from June 6. It will resume the inbound tourism in the country which has been suspended for over two years after the beginning of the coronavirus pandemic.
Japanese Prime Minister Fumio Kishida is set to make the announcement on Thursday, reports Japan Times.
The expected move comes after Japan began a trial of package tours involving foreign tourists on Tuesday. The visitors need to be vaccinated three times, including a booster shot, to participate in the tours, which each consist of a small number of people.
Japan is currently the only Group of Seven country still refusing to allow the normal entry of foreign tourists.
The government has already said it will raise the daily cap on new arrivals to 20,000, up from the current 10,000, after it started allowing limited entry of foreign students, business travelers and academics in March.
Japan has seen a precipitous drop in the number of foreign visitors to the country during the first two years of the pandemic. For a country that has positioned tourism as a key pillar of its economic growth strategy, the impact of the loss of tourists is stark.
In 2019, when foreign visitors reached a peak of 31.2 million people, Japan earned an additional $46.1 billion in tourism-related revenue. In 2020, the number of foreign visitors shrank to 4.12 million, dipping even further in 2021 to 245,900, a decrease of 99.2% across the two years.
Business leaders have been pushing Japan to ease entry restrictions and allow in foreign tourists.
Masakazu Tokura, chairman of Keidanren, the nation's biggest business lobby, voiced his expectation Monday that Japan will further ease its border controls.
"The 20,000 cap is just a process. I expect it will become 50,000 and then 100,000, and eventually there will be free and open border controls similar to that of G7 countries," Tokura said.
Earlier this month, several travel industry groups jointly submitted a letter urging the transport ministry to resume inbound tourism.
"At present, the countries that do not allow tourists to enter are a minority, including Japan and China," the letter said. "If this continues, Japan will lose in the worldwide competition to attract tourists."
Japan has imposed strict border controls from the start of the pandemic in an effort to prevent the further spread of the virus. From April 2020, restrictions severely limited entry by foreign nationals — for a time even those with a valid residence status in the country.
The strict measures caused considerable disruption to the foreign community, with some non-Japanese residents who left the country during the early stages of the pandemic then finding themselves unable to return.