Week in review: World
BI Report || BusinessInsider
Published: 15:47, 21 January 2022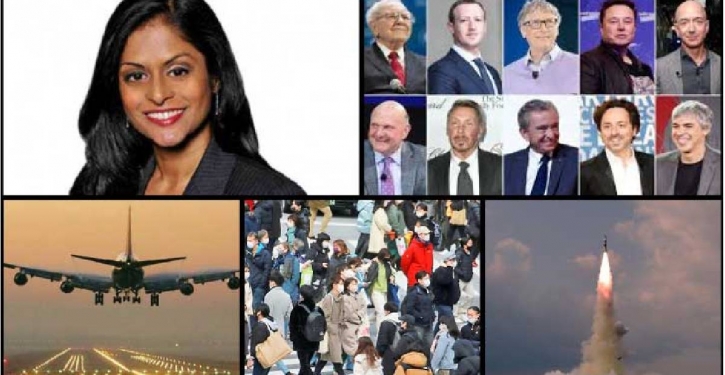 Photos: Collected. Photo Collage: Business Insider
The past week witnessed a number of important global events. Business Insider Bangladesh has picked the top five of the events which surfaced on the international media outlets most and held the attention of the global readers. Check the events in brief here.
Nusrat Choudhury set to be 1st Bangladeshi-American federal judge
US President Joe Biden has nominated Bangladeshi-American Nusrat Jahan Choudhury to be the first Muslim woman to serve as a federal judge in the United States.
Choudhury's nomination - if confirmed, she would be just the second Muslim judge, as well as first Bangladeshi-American to sit on a federal bench in the US - captured most of the attention among the eight named Wednesday in Biden's latest round of nominees chosen to reflect his promise of diversifying the judiciary.
Choudhury emerged as the top choice among Muslim American advocates last summer for one of New York's federal court vacancies; Senate Majority Leader Chuck Schumer backed her as an expert in civil rights and liberties.
India extends suspension of scheduled int'l flights till Feb 28
India on Wednesday decided to extend the suspension of scheduled international flights to and from the country till February 28, 2022.
"The competent authority has decided to extend the suspension of scheduled international commercial passenger services to/from India till 2359 hrs of 28th February, 2022," said a circular issued by Director General of Civil Aviation (DGCA) on December 19.
It said the restrictions shall not apply to international all-cargo operations and flights specially approved by DGCA. However, flights operating under the air-bubble arrangement will not be affected, as per the DGCA circular.
Japan brings back virus restrictions over Omicron surge
Japan is set to approve new coronavirus restrictions on a large part of the country, including Tokyo, on Wednesday as it battles record infections fuelled by the Omicron variant.
Final approval from the government is expected later in the day, but on Wednesday morning experts backed placing 13 regions 'under quasi-emergency measures from January 21 to February 13' Daishiro Yamagiwa, minister in charge of the coronavirus affairs.
The move allows each region to decide what specific measures to implement, but local media said the restrictions were likely to include shorter opening hours for bars and restaurants and possible restrictions on alcohol sales.
The highly infectious Omicron variant is driving a resurgence in coronavirus cases, with daily nationwide infections topping 30,000 for the first time this week, according to media tallies.
Japan has still been less hard hit than many countries, with around 18,400 deaths in the pandemic while avoiding strict lockdowns.
Wealth of world's 10 richest men doubled in pandemic
The pandemic has made the world's wealthiest far richer but has led to more people living in poverty, according to the charity Oxfam.
Lower incomes for the world's poorest contributed to the death of 21,000 people each day. But the world's 10 richest men have more than doubled their collective fortunes since March 2020, Oxfam said.
According to Forbes figures cited by the charity, the world's 10 richest men are -- Elon Musk, Jeff Bezos, Bernard Arnault and family, Bill Gates, Larry Ellison, Larry Page, Sergey Brin, Mark Zuckerberg, Steve Ballmer, and Warren Buffet.
N Korea fires 2 suspected missiles in 4th launch this year
North Korea on Monday fired two suspected ballistic missiles into the sea in its fourth weapons launch this month, South Korea's military said, with the apparent goal of demonstrating its military might amid paused diplomacy with the United States and pandemic border closures.
South Korea's Joint Chiefs of Staff said the North likely fired two ballistic missiles from an area in Sunan, the location of Pyongyang's international airport, but didn't immediately say how far they flew.
Japan's Prime Minister's Office also said it detected a possible ballistic missile launch from North Korea but didn't immediately provide more details.
Japan's Coast Guard issued a warning for vessels traveling around Japanese waters to watch out for falling objects, but no immediate damage was reported. The Coast Guard later said that the North Korean projectile is believed to have already landed but didn't specify where.