Reasons for surging inflation and global responses
BI Desk || BusinessInsider
Published: 19:57, 14 January 2022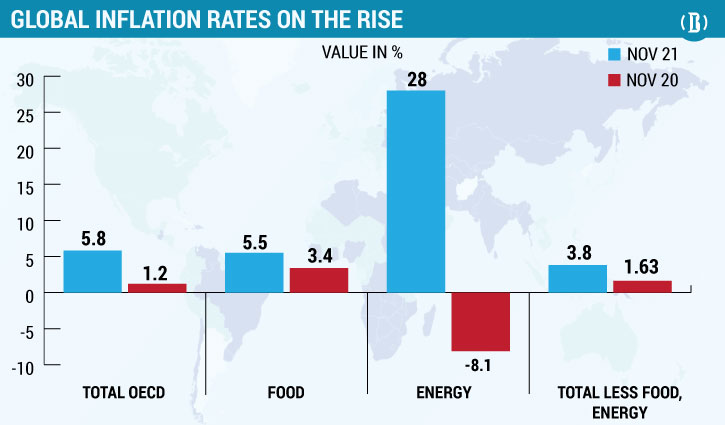 Graphics: Business Insider Bangladesh
Inflation is driving up prices of everything – from essential foods to energy and used cars – globally. And, this is happening at a time when consumers across the world are struggling to survive amid the ongoing onslaught of the coronavirus pandemic for nearly two years.
In the United States of America, the December consumer price index, which measures changes in the cost of food, housing, utilities, gasoline and other goods, increased by 7 percent over the past 12 months, the largest since 1982.
In the OECD (Organisation for Economic Co-operation and Development) areas, inflation surged to 5.8 percent in the year to November 2021, compared with 5.2 percent in October (and 1.2 percent in November 2020), its highest rate since May 1996.
In the euro area, the corresponding rates were 5 percent in December and 4.9 percent in November (an all-time high). Energy price inflation in the OECD area was up 27.7 percent in the year to November (October: 24.3 percent), its highest rate since June 1980.
Food prices in November in the OECD areas rose 5.55 percent (October: 4.6 percent), inflation was a more moderate 3.8 percent (October: 3.5 percent) – although it contributed significantly to headline inflation in many large economies.
In G20 countries, Inflation increased to 5.9 percent in November 2021, from 2 percent in the corresponding month the previous year.
According to the OECD, normally cautious in its inflation forecasts, the US and the UK are unlikely to see inflation fall back to that two percent target until well into 2023, although it predicts other economies might withstand inflationary pressures better.
Omicron and supply chain factors:
The Omicron variant is infecting workers at factories, ports, trucking companies and warehouses and leading to further shortages of some products and parts used for making goods, said the New York Times.
Strong demand from consumers also continues to elevate shipping prices and fuel price increases for a variety of products.
China is also carrying out sweeping lockdowns to keep the variant from spreading ahead of the Beijing Olympics next month, raising the prospect of more disruptions in the coming weeks for supply chains.
The price to ship a 40-foot container from Asia to the US hit $14,572 in January, a tenfold increase from two years ago.
Also, delivery times for ocean shipments from China to the United States stretched to a record 80 days in December, up 85 percent from 2019.
Global shipping rates also remain on the higher side. The Shanghai Containerized Freight Index was up 76 percent in the last week of December 2021 as compared to 2020.
US response:
In the US, the Federal Reserve is now preparing to raise interest rates to curb inflation and has indicated that it may raise rates three times in 2022, perhaps beginning as early as March.
The Fed has stopped calling inflation "transitory" and on January 11, the Fed chair, Jerome Powell, told Congress that it was time for the central bank to move away from emergency pandemic measures, according to a Reuters report.
The chair of the Federal Reserve warned that high inflation poses a "severe threat" to a recovery in the nation's jobs market.
The container shortage suffered worldwide was a major reason for these massive shortages in goods and services.
Pricing on housing and used cars were the biggest contributors to this increase in inflation rate with 0.4 percent and 3.5 percent increases in price compared to November, respectively.
If prices continue spiking, the Fed could be forced to push through a sharper rise in interest rates this year than the three quarter-percentage-point hikes its policymakers currently anticipate, risking a return to recession.
"Inflation is running very far above target. The economy no longer needs or wants the very accommodative policies we have had in place," Powell said in his testimony.
EU response:
Euro area inflation reached 4.9 percent in November, mainly due to higher energy prices, well above the central bank's 2 percent target.
In response, The European Central Bank (ECB) in December announced that it will scale back pandemic-related emergency asset purchases in line with higher inflation.
The ECB's relatively cautious stance contrasts with the more activist decisions of the Bank of England to raise interest rates to 0.25 percent from 0.1 percent.
Other countries:
South Korea increased its base rate of interest to where it was before the pandemic, as it tries to contain rising inflation and soaring household debt. The Bank of Korea's (BOK) widely expected decision to raise the rate to 1.25 percent was its third hike in six months, said BBC.
In August, the country became the first major Asian economy to raise rates since the start of the coronavirus era. Surging inflation has ramped up pressure on South Korea's policymakers to take action, as consumer inflation for 2021 as a whole jumped to 2.5 percent.
While Australia fared better than comparably rich nations, the country still saw consumer price inflation increase by 3 percent over the year to the September quarter of 2021, driven by fuel prices and home-building costs.
In Japan, inflation remains well below the Bank of Japan's 2 target, a recent spike in global commodity costs has prodded more firms to hike prices. Some analysts expect core consumer inflation to exceed 1.5 percent around April.
In response, the BOJ is considering conducting a thorough analysis on the country's price dynamics and whether recent signs of quickening inflation would be sustainable, said Reuters.