Cattle shipment scanty as traders watch prices
Sakibul Azaz || BusinessInsider
Published: 21:36, 17 July 2021 Update: 21:40, 17 July 2021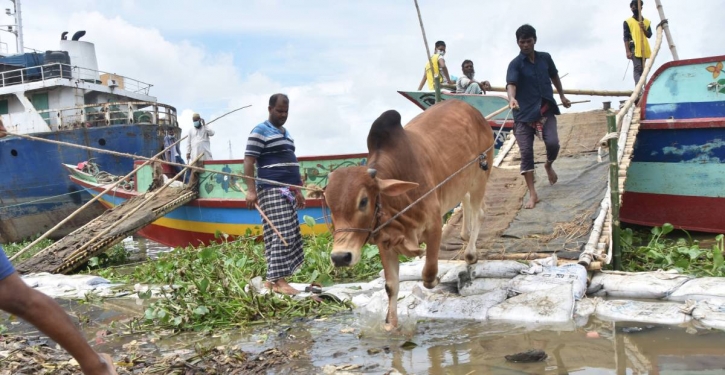 Wary of cattle head prices after lockdown and rains, a large number of bull traders said they are observing markets in Dhaka before bringing truckloads and bulk loads of sacrificial animals into the city. Photo: Business Insider Bangladesh
Wary of cattle head prices after lockdown and rains, a large number of bull traders said they are observing markets in Dhaka before bringing truckloads and bulk loads of sacrificial animals into the city.
The traders told Business Insider Bangladesh that they would keep observing prices of the cattle heads until Sunday, before making their final decisions.
This correspondent visited Swarighat, a hub of sacrificial animals, on Saturday and found that the wholesalers were being asked about prices of cattle heads by their partners in neighbouring districts, such as Munshiganj, Faridpur, Rajbari, Pabna and Manikganj.
A section of Swarighat residents said imports of cattle heads have gone down 50 percent this year.
Sujan Mallick, an animal wholesaler, transported some 63 cattle heads into the city on Saturday morning. He said he stopped bringing 51 more bulls into the capital fearing those would remain unsold.
"If I see prices are good and that sales look bright, I would bring the animals in. If I need to take unsold animals back, that would be expensive for me," he told Business Insider Bangladesh on Saturday.
A leaseholder of a cattle head market at Chalkbazar in old Dhaka said he saw a total of 6,000 animals reach the market in the last three days which is one third of regular supplies.
"A bulk trawler comes to the city every 2 or 3 hours with 100 or 200 cattle heads on it. Had it been a normal period, some 200 bulls would have arrived every hour," said Mohammad Ashraf, a caretaker of Swarighat pontoon along the Buriganga river.