Bangladesh-China FTA to boost trade, investment: Speakers
BI Report || BusinessInsider
Published: 21:45, 9 June 2021 Update: 21:47, 9 June 2021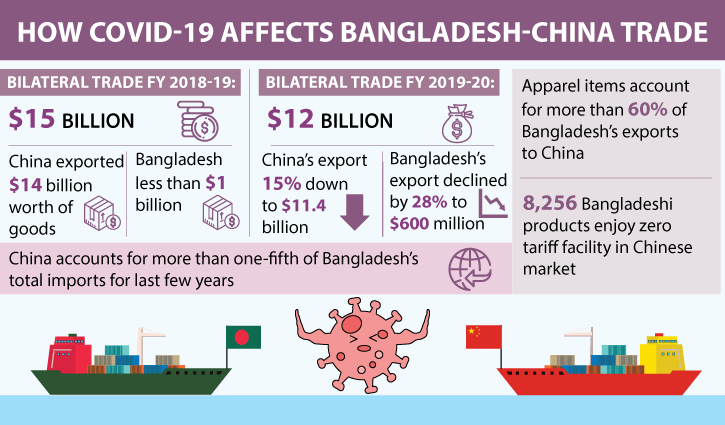 Business Insider Bangladesh Infograph
A Free Trade Agreement (FTA) with China would boost Bangladesh's exports to the world's most populous country, which is also the second largest economy in the world.
Speakers told this at a virtual discussion on "Bangladesh-China Economic and Trade Relations in the aftermath of the Covid-19 Global Pandemic" organised jointly by the Economic Reporters' Forum (ERF) and Bangladesh China Chamber of Commerce and Industry (BCCCI) on Wednesday.
They said a comprehensive bilateral FTA with China would have a positive impact on Bangladesh's exports and also help Bangladesh to take full advantage of duty-free market access to the Chinese market.
Commerce Minister Tipu Munshi who attended the discussion as chief guest said, "Although some progress has been made for signing an FTA with China, still we need to put a lot of effort to conclude the negotiation and materialise the prospect of the FTA."
"I believe this will help Bangladesh to offset the LDC graduation challenges," said Munshi.
He said that the trade balance of between the two countries is now heavily in favour of China as out of around $12.09 billion bilateral trade in FY20, Bangladesh's export accounted for only $600 million while imports from China totaled a mammoth $11.49 billion.
The minister said as part of its unilateral market access schemes for LDCs, China has allowed duty-free access to Bangladesh for 97 percent of its tariff lines which became effective from July 1, 2020. Under this initiative, 8,256 Bangladeshi products enjoy zero tariff facility for exports in this market.
"I strongly believe that by fully utilizing this duty-free facility, trade imbalance can be reduced to a greater extent," he said.
Mentioning that trade is the lifeline and also central to the government's vision to transform Bangladesh as an advanced economy, Munshi said that his ministry would continue to support and encourage the private sector and also spearhead the industrial development of the country.
He also mentioned some of the ongoing projects, which are being implemented with Chinese support.
Chinese Ambassador to Dhaka Li Jiming also talked about FTA and Covid-19 vaccines.
He said it is high time to consider an FTA combined with an investment deal between China and Bangladesh, which according to him would boost Bangladesh's export to China.
The Chinese ambassador said Bangladesh can reduce trade imbalance by exporting more to China and he hopes Bangladesh's export will increase once the economy recovers from the Covid-19 pandemic.
Li said he was fully confident that under the Chinese Belt and Road initiative, there would be more areas of cooperation in different fields, such as 5G communication, high-speed railway as well as the G to G and PPP initiatives.
On the Covid-19 vaccine issue, The Chinese envoy said that despite huge domestic demand, China is trying its best to supply vaccines to Bangladesh.
Dhaka has already received some 500,000 doses of vaccines from Beijing as a gift and another 600,000 doses are likely to arrive in Dhaka by June 13, he said.
The Chinese Ambassador said a 'very pragmatic' discussion is going on relating to procurement of Covid-19 vaccine from China to meet Bangladesh's needs.
"There is a very 'encouraging progress' between the two countries over joint production or co-production of vaccines," he said.
BIDA Executive Chairman Md Sirazul Islam said it would be a real game changer if Bangladesh could tap the potential Chinese market. "If we can explore even 1 percent of Chinese market, then the exports of Bangladesh to China will increase by $25 billion," he said.
He said his office would facilitate and expedite investment from China. He said Chinese investors could take the opportunity to invest in Bangladesh and thus export to China.
Bangladesh Ambassador to China Mahbub Uz Zaman said that there is an excellent platform for cooperation between the two countries for further consolidating the bilateral relations.
He said with the three high-level bilateral visits between Bangladesh and China, the bilateral relationship has been elevated into a strategic partnership of cooperation.
"Chinese investments to Bangladesh have been playing an important role and have also been contributing towards employment generation" Mahbub said, adding that the Chinese investors are looking forward to investing in the special economic zones in Bangladesh.
Trade economist Dr Mohammad Abdur Razzaque presented the keynote paper on the Bangladesh-China trade and its prospects.
He said signing an FTA is an option to retain market access in China, but it comes with reciprocity.
Razzaque said there are estimates that a comprehensive bilateral FTA would increase Bangladesh's exports to China by 22 percent. On the other hand, Chinese exports to Bangladesh could increase by about 16 percent.
"Any FTA deal with China should be backed by an investment agreement from which Bangladesh should be able to expand its exports and can keep bilateral trade deficits within reasonable limits," he said.
Razzaque said by 2050, China would have one-third of the global economy in terms of purchasing power parity and by that time imports of China would increase further and Bangladesh has huge potential here.
ERF President Sharmeen Rinvy and Joint Secretary General of BCCCI Al Mamun Mridha delivered welcome remarks. BCCCI President Gazi Golam Murtoza chaired the event while ERF General Secretary, S M Rashidul Islam moderated the function.