Fire-hit ship sinks off Sri Lanka coast with Bangladesh-bound containers
BI Special || BusinessInsider
Published: 22:30, 8 June 2021 Update: 16:15, 9 June 2021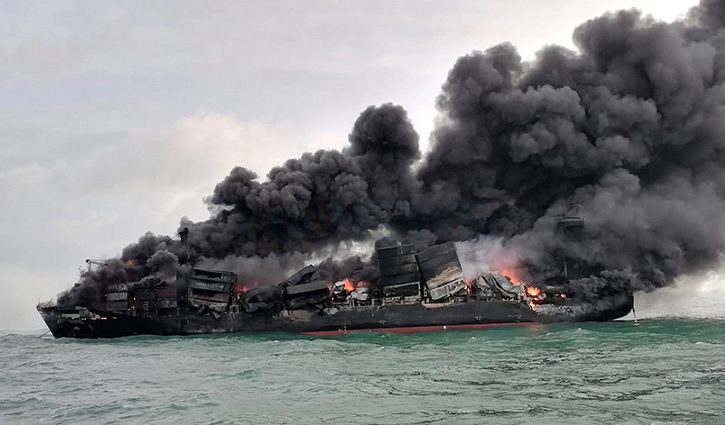 The Singapore-flagged MV X-Press Pearl catches fire off Colombo port recently. Photo: Collected
A container-laden ship that was ravaged by fire and finally sunk near Colombo port in Sri Lanka on June 2 has become a big headache for some businesses and insurers in Bangladesh.
Sri Lanka and some western nations are concerned about environmental disaster as the vessel was carrying tonnes of chemicals and it had 325 tonnes of fuel in its tank that posed a threat of oil spill.
But the case is different for Bangladesh as the vessel was carrying at least 10 20-feet containers of two Dhaka-based companies.
The companies are: Gazi Auto Tyres that had six containers full of synthetic rubber and Meghna Innova Rubber that had four containers. Gazi Auto Tyres is owned by Jute and Textile Minister Golam Dastagir Gazi (Birpatik). Now these companies have been communicating with their insurers to get the compensation. But that will not be easy as the incident occurred in a foreign country and it takes months to get a surveyor's report.
"We came to know about the incident recently. We had six containers loaded with synthetic rubber," said Mohammad Fakhrul Islam, executive director (accounts & finance) of Gazi Group.
"We have contacted our insurer — Federal Insurance Company — for the compensation," he told the Business Insider Bangladesh on Tuesday.
Meghna Innova Rubber had Tk 1.5 crore worth of rubber in four containers, said Lutful Bari, director, operations of Meghna Group. He said they will face trouble in tyre production as it takes time to import fresh consignment.
Meghna has insurance coverage with Sonar Bangla Insurance Company, chaired by Sheikh Kabir Hossain, also the chairman of Bangladesh Insurance Association.
"We are quite aware of the incident. We have already informed our reinsurer – Sadharan Bima Corporation – about the issue," said Abdul Khaleque Mia, chief executive officer of Sonar Bangla Insurance.
But he is not sure when the claim will be settled. "We will have to have a survey report and other documents for assessing the loss," Mia told the Business Insider Bangladesh.
The Singapore-flagged MV X-Press Pearl started sailing on May 15 after loading cargoes — 1,486 containers — from Hazira port in Gujarat of India. The vessel was bound to Singapore via Colombo. But the fire erupted on May 20 when the ship was anchored 9.5 nautical miles (18 kilometres) away from Colombo to enter the port. Fire raged the vessel for 12 days.
Sri Lanka navy believes the blaze was caused by the vessel's chemical cargo. According to media reports, Sri Lankan police are probing the fire, and a court in Colombo on Tuesday banned the captain, the engineer and the assistant engineer from leaving the country.