New deal signed with Qatar to get 1.5 MTPA of LNG for next 15 years
Published: 19:58, 1 June 2023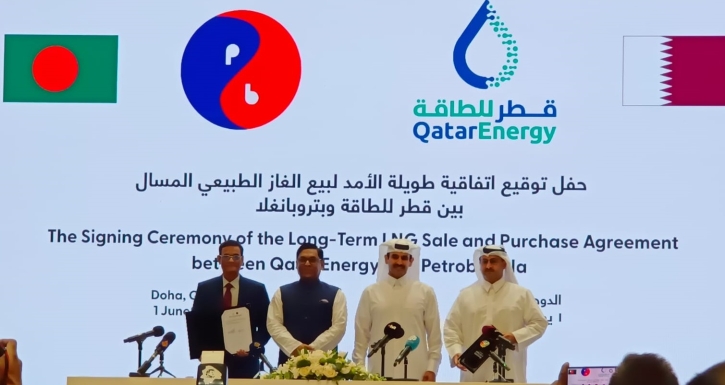 Photo: Collected
Bangladesh has signed a new deal with Qatar to get an additional 1.5 million tons per annum (MTPA) of liquefied natural gas (LNG) for the next 15 years from 2026.
Bangladesh's state-owned Petrobangla signed the new agreement with Qatar's state-owned Ras Laffan Liquefied Natural Gas Company Ltd., (Qatargas) at a function at Qatari capital Doha on Thursday.
State Minister for Power, Energy and Mineral Resources Nasrul Hamid and Qatar's State Minister for Energy Saad Sherida al-Kaabi were present at the contract signing ceremony, said a press release of the Ministry of Power, Energy and Mineral Resources.
Energy Secretary Khairuzzaman Majumder was also present on the occasion.
Petrobangla chairman Zanendra Nath Sarker and Executive Vice President (Marketing) of Qatar Energy Trading LLC Abdulla Ahmad Ai-Hussaini signed the contract on behalf of their respective sides.
Under the new deal, Qatar will supply an additional about 1.5 MTPA of LNG per year from 2026 to 2040. Of this, Bangladesh will get 12 LNG cargoes in 2026 and 24 cargoes in 2027.
Currently, Bangladesh has been importing 1.82-2.5 million MTPA of LNG since 2018 under an existing deal signed in 2017.
Addressing the function, Nasrul Hamid thanked Qatar for agreeing to supply additional LNG to Bangladesh.
"The long-term contract of the LNG supply is a comforting achievement for Bangladesh at a moment when the entire world is facing unrest regarding the energy supply," he said.
Nasrul said that this energy partnership between Bangladesh and Qatar has added a new dimension to the existing friendship between the two countries.
It was possible to sign this long-term LNG agreement quickly because of the diplomatic move from Prime Minister Sheikh Hasina, he added.
He said that the supply of all kinds of energy will be ensured to maintain the economic pace.
As Bangladesh is one of the fastest growing economies, the demands for power and gas have constantly been increasing in the country, he added.
Qatar's State Minister for Energy Saad Sherida al-Kaabi said that his country is proud to be the largest LNG supplier to Bangladesh.
"Annual LNG supply of more than 3.5 million tons will contribute to the overall development of Bangladesh including its socio-economic status,"he added.