Mango growers, traders in Chuadanga disheartened as prices declined by half
Published: 12:38, 27 May 2023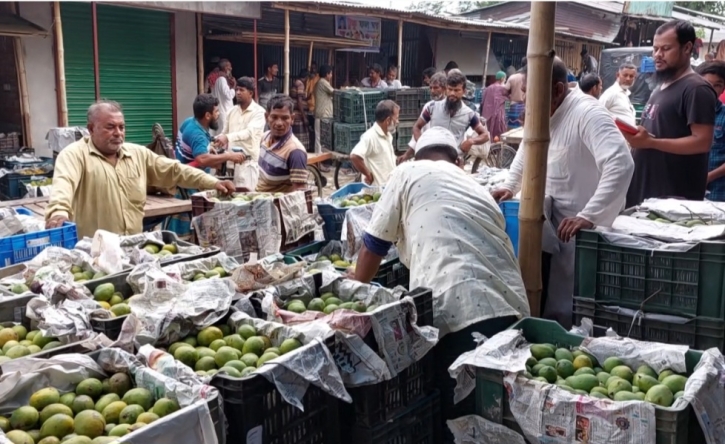 Photo: Collected
Mango growers and traders in the western district of Chuadanga have been left disappointed as the prices of the seasonal fruits are low compared to the previous years.
Merely two weeks after the official mango harvest, there was a significant drop in mango prices, nearly halving in comparison to the previous season.
This situation caused concerns among them, who fear incurring losses if the wholesale market continues to perform poorly.
Following the availability of Ati, Guti, and Bombay varieties of mangoes in the market, Himsagar mangoes have now entered the market in the district.
According to the 'Mango Calendar' created by the Chuadanga District Administration and Agriculture Department, the collection and marketing of mangoes in the district commenced on May 14.
However, the sales of Ati, Guti, and Bombay varieties of mangoes during the first week of the harvest did not meet expectations, said local farmers and traders.
Later, the harvest and marketing of Himsagar mango began on May 22. Despite an abundant supply of mangoes in the market, demand remained remarkably low, they said.
Wholesale prices for Bombay mangoes ranged from Tk 1,000 to Tk 1,200 per maund, while Ati and Guti mangoes were selling for Tk 350 to Tk 500 per maund, depending on size and quality, they said.
On the other hand, Himsagar mangoes were being sold at Tk 1,200 to Tk 1,400 per maund.
In the retail market, the prices per kilogram were TK 45 to 50 for Himsagar, TK 40 to 45 for Bombay, and TK 15 to 20 for Anti and Guti.
At the beginning of last year's season, Himsagar mangoes were sold in the wholesale market at rates ranging from Tk 2,000 to Tk 2,400 per maund.
Similarly, Bombay mangoes were sold between Tk 1,600 and Tk 2,000 per kg, while Ati and Guti mangoes fetched prices of Tk 1,200 to Tk 1,400. This year, however, prices have decreased by nearly half.
According to sources from the Department of Agricultural Extension (DAE), a total of 2,465 hectares of land were brought under mango cultivation in the current season and 28,265 metric tonnes are expected to be produced.
As per the mango calendar, Lengra mangoes will be harvested and marketed on May 25, followed by Amrapali and Bari-3 on June 5, Fazli on June 21, and Ashwina and Bari-4 on July 1.
The main hub for mangoes in the district is Barabazar Phalpatti, situated on the banks of the Mathabhanga River in Chuadanga town.
Each morning, trades, and buyers throng the market. Currently, four types of mangoes dominate the market, with Bombay and Himsagar mangoes experiencing high demand.
Rafiq, a wholesaler, attributed the price decline to an excess supply of mangoes compared to the current demand.
But he expressed optimism, saying, "However, the market will pick up in a few days, and mango sales will increase.
Additionally, the huge demand for litchi in the market is still affecting mango sales. Once, the demand for litchi decreases, mango sales will improve, leading to higher prices.
Nuruddin, a mango trader, expressed his concerns about the current market situation, fearing that farmers' capital would suffer if prices continued to remain low.
"It is disheartening to witness such low prices for mangoes," he said.
Kalam Miah, general secretary of the Chuadanga District Fruit Traders Association, highlighted that the market still had various seasonal fruits, including litchi, readily available.
He added, "If mangoes continue to be sold at such low prices, how will the farmers make any profit? If mango prices remain low throughout the year, how will they sustain themselves?"