Saudi Minister in Dhaka to discuss trade, investment issues
Published: 20:47, 10 March 2023 Update: 20:47, 10 March 2023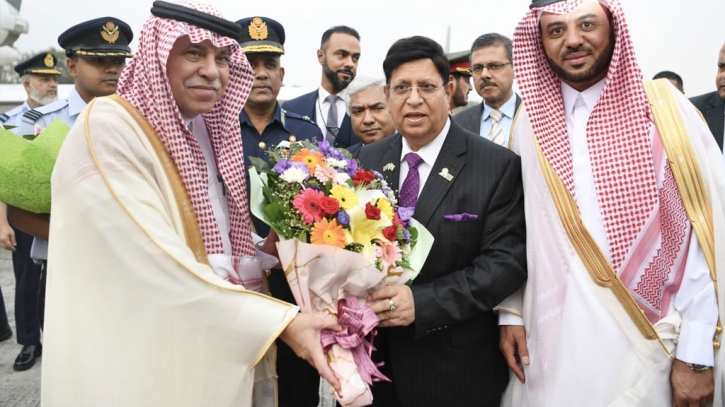 Photo: Collected
Saudi Minister of Commerce and Chairman of General Authority of Foreign Trade Dr. Majid bin Abdullah Al-kassabi arrived in Dhaka on Friday to attend Bangladesh Business Summit 2023 and to discuss bilateral, commercial, and global issues with Bangladesh leadership.
A special flight carrying the Saudi Commerce Minister landed at the BAF base Bangabandhu in Dhaka.
Foreign Minister Dr AK Abdul Momen welcomed him at the airbase.
Senior officials from the Ministry of Foreign Affairs and the Ministry of Commerce were also present at that time.
He is in Dhaka on a two-day visit and is scheduled to call on Prime Minister Sheikh Hasina today. He is also scheduled to call on Foreign Minister Dr. AK Abdul Momen, MP and Commerce Minister Tipu Munshi, MP tomorrow. He will attend a welcome dinner hosted by Adviser to the Prime Minister on Private Industry and Investment Salman F. Rahman today.
Saudi Commerce Minister is leading a twenty-member high-level delegation.
A thirty-five-member business delegation is also accompanying him.
This visit is expected to impart further momentum to the bilateral and trade relations of these two fraternal countries, said the Ministry of Foreign Affairs.
Prime Minister Sheikh Hasina is scheduled to inaugurate the three-day summit at 10am on Saturday at the Bangabandhu International Conference Center (BICC).
She will also inaugurate the 'Best of Bangladesh Expo' on the same day.
FBCCI, the apex trade organization of the country, is organizing this international summit on its 50th founding anniversary.
The summit will highlight the success stories that have set the foundation for Bangladesh's sustainable growth.
Ministers from seven countries including the United Kingdom (UK), the Kingdom of Saudi Arabia (KSA), China, Bhutan, the United Arab Emirates, CEOs of 12 multinational companies, and more than 200 foreign investors and business leaders from 17 countries of the world are also going to participate in the summit.