Flowers sales likely to cross Tk 300cr in Feb: Traders
Published: 17:05, 20 February 2023 Update: 21:34, 20 February 2023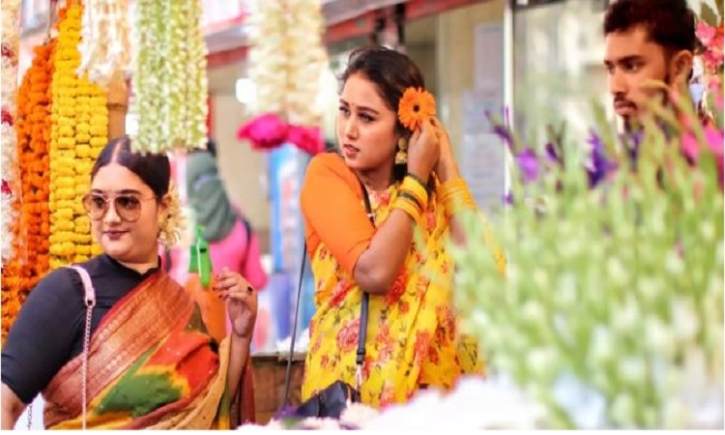 Photo: Collected
The price of flowers is slightly higher this year and thanks to three important occasions that fall within a week, flower traders are expecting the monthly revenues in their sector to cross Tk 300 crore from selling different kinds of flowers in February, the peak season of flower trading.
Growers and traders said that they sold a remarkable volume of flowers on February 14 this year - marking the first day of the Bengali month of Falgun, and Valentine's Day.
Now with Amor Ekushey, International Mother Language Day February 21 is International Mother Language Day, another potentially big day for flower sales
Visiting some of the flower shops in Shahbagh, there was a sufficient supply of flowers in the market on the day.
"As always, this year also due to the good production of flowers, the concerned claim that enough flowers can be supplied as per the demand," said Rahela Begum, owner of 'Samara Puspa Bitan' of Shahbagh.
In reply to a query on the price of flowers and expected sales across Bangladesh, Muhammad Genarul, proprietor of 'Shahbagh Flower Garden' a wholesale outlet said, "This year the price of flowers is a little higher.
Each piece is Tk 5 to 40, depending on the variety, higher than before.
But this year it is understood that the market will go well. Retailers and buyers are already placing full orders in advance."
President of Bangladesh Flower Society (BFS) Babul Prasad said all the farmers and traders are expecting good sales figures in February.
Babul said: "Last year, Tk 50-60 crore worth of flowers were sold daily on those three days (1st Falgun, Valentine's Day, and February 21). But if everything goes well this year, the sales amount will be Tk 130 to Tk150 crores on February 21, and all together sales of flowers in February would cross Tk 300 crore."
Flower Traders said that most of these flowers are sold in the Shahbagh and Agargaon areas of the capital. The flowers in these two main wholesale markets are supplied with flowers from Jessore, Narayanganj, and Savar areas.
Retailers across the country collect flowers from these markets. In the wholesale market, the price of each flower has increased from Tk5 to Tk 40 compared to last year, the traders said.
A rose is sold at Tk 5 to 60 depending on the quality. Gerbera, Gladiolus is being sold at Tk 20 to Tk 40, and Rajnigandha at Tk 5 to Tk 20. At the same time, marigolds are selling at Tk 200-400 per 1000 pieces.
Even though enough flowers are produced to meet domestic demand and are full of fresh flowers, the export activity is very slow. Export Promotion Bureau (EPB) data analysis of the last 7 fiscal years shows that the export income from flowers has risen to between $80,000 and $90,000.
Similarly, in the fiscal year 2021-22, the export earnings from flowers were $80000. The export of the current fiscal year 2022-23 (July-January) stood at $40000, which is 33.33 percent higher than in the same period last year.
Bangladesh Bureau of Statistics (BBS) data says that at present, 32120 tons of flowers are produced on 3930 acres of land in the country.
Roses clearly tend to dominate domestic production, as out of the 32,120 MT of flowers produced in the country, more than two-thirds (67 percent) were roses, at almost 22,000 MT.