Pahela Falgun and Valentine's Day, Jashore flower farmers eye huge sales
Published: 11:33, 10 February 2023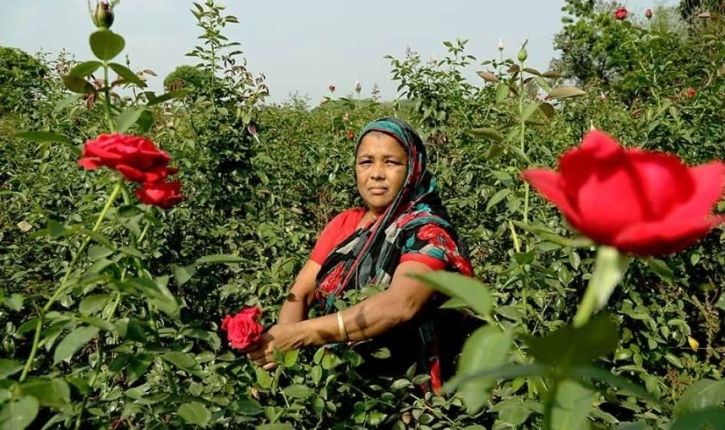 Photo: Collected
Pahela Falgun (the first day of spring on the Bangla calendar), Shaheed Dibash (International Mother Language Day and Language Martyrs Day), and Valentine's Day all fall in the month of February and flowers are a must-have for these occasions.
Understandably, this month brings smiles to flower farmers and traders across the country.
Flower farmers of Godkhali union under Jhikargacha upazila of Jashore district, one of the largest flower markets of the country, are busy with the hope of selling flowers worth around Tk 300 crore.
Godkhali, known as the "flower capital" of the country, has taken on a mesmerizing look with red, blue, yellow, purple and white flowers.
This year, local farmers have cultivated various flowers on about 600 hectares of land in Godkhali. Ninety percent of the people of this village make a living by cultivating flowers.
Flowers cultivated in 75 villages of Jhikargacha, 25 km from Jashore town, include marigolds, roses, gladiolus, gerberas, daisies, gypsies and dahlias.
Every year flowers worth around Tk 500 crore is grown in the fields.
Flower farmers and traders make huge profits every year in February as demand for flowers increases during the three major events – Pahela Falgun, Valentine's Day and International Mother Language Day.
Abdur Rahim, president of the Bangladesh Flower Growers' Association, said that a lion's share of roses comes from Jashore's Godkhali area. Not only roses but other varieties of flowers are also grown here.
As the weather was favourable this year, farmers are working day and night in the fields – optimistic about big sales, he added.
Flower farmer Bablur Rahman said, many wholesalers and retailers from different parts of the country have started thronging the Godkhali market of Jhikargacha.
Ismail Hossain, a farmer of Panisara village, said, "Tulips have added a different dimension this year in this flower kingdom. No one imagined that this flower – from cold countries – would bloom here."
Traders supply these flowers to different parts of the country, including the largest flower markets in Dhaka's Shahbagh, Chattogram, Khulna, Barishal, and Rajshahi.
Anwar Hossain, another flower farmer of Biroliya village under the Godkhali union, said that some youths from Dhaka started cultivating roses in this area in the 1990s. Seeing the good yield and the success, locals gradually started growing the flowers commercially.
Within a very short time, rose cultivation became popular in the area, Anwar added.
Successful flower farmers Nasrin Nahar and Sazeda Khatun said numerous visitors come to see the flower gardens here thanks to extensive publicity in the media.
Masum Hossain Polash, Agriculture Officer of Jhikargacha upazila, said that around 6,500 hectares of land including empty spaces by the road, yards and even school premises, have been brought under flower cultivation in Godkhali union this year.
"The busyness of the workers starts every afternoon as they have to finish all the cutting, sorting, soaking and tying of the flowers before evening. The Godkhali flower market gets its momentum after evening," the officer added.