Bangladesh for alternative payment system to keep trading with Russia: Official
BI Special || BusinessInsider
Published: 13:02, 3 November 2022 Update: 13:02, 3 November 2022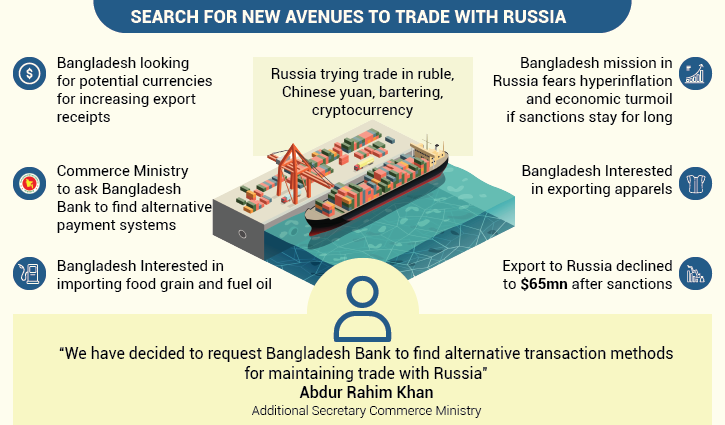 Business Insider Infograph
Bangladesh has been desperately looking for alternative avenues for import payments and increase export receipts amid multiple sanctions against Russia, an official of the commerce ministry said.
In the backdrop of the Russia-Ukraine war, Bangladesh, like many other countries, is experiencing higher inflation and lower trade. In particular Bangladesh is interested in trading with Russia over importing food grain and fuel oil and exporting apparels.
Under such circumstances, Bangladesh Bank is going to be asked by the commerce ministry to find alternative payment systems for carrying out smooth trade and commerce between Dhaka and Moscow.
A commerce ministry meeting resolved on Sunday that they would ask the central bank to find a way out. The meeting was presided over by additional secretary Abdur Rahim Khan.
"We have decided to request Bangladesh Bank to find alternative transaction methods for maintaining trade with Russia," Khan told the Business Insider Bangladesh.
The recommendations that came out in the meeting would be forwarded to BB so that they can take the next course of actions. Following the sanctions, Bangladesh's export to the Russian federation declined to $65 million from $160 million in the last one year, he said.
The additional secretary said the proposals of the Bangladesh Bank and Economic Relations Division will be placed at a bilateral meeting between Bangladesh and Russia to be held within a month.
Last month, the Bangladesh mission in Russia sent a report to the commerce ministry to adopt alternative payment systems for exporting goods amid the US-led Western sanctions against Russia.
If sanctions stay for long, the mission fears that there might be hyperinflation and economic turmoil.
Bilateral trade will suffer to a great extent until and unless there is a free and safe payment system, it maintains.
The US and the EU have imposed multiple sanctions, including SWIFT ban, against Russia following its invasion of Ukraine in February.
Currently, Russian policy-makers are counting on being able to trade in their national currency 'ruble'.
They are also considering going for bartering, a very old trade mechanism, to keep foreign trade wade amid the war.
The Russian federation has been doing some international transactions in cryptocurrency with Brazil, Indonesia and a few of the African countries.
Besides, the Russian authorities and companies are inventing new ways to stop relying on dollars and euros. Russia is now increasingly turning to Chinese yuan.
The embassy said payments through ruble, yuan or cryptocurrency are all experimental now and need some time to make a pragmatic decision.
Bangladeshi exports to Russia started falling in March 2022 and it is likely to fall drastically in fiscal year (FY) 2022-2023.
A negative export growth of 55.16 per cent in July has already occurred to affect Bangladesh's economy, according to the letter. The volume of exports to Russia was $638.30 million in FY 2021-22.