Bangladesh-India's closer interaction to boost mutual trade benefit: BGMEA
Published: 19:14, 21 September 2022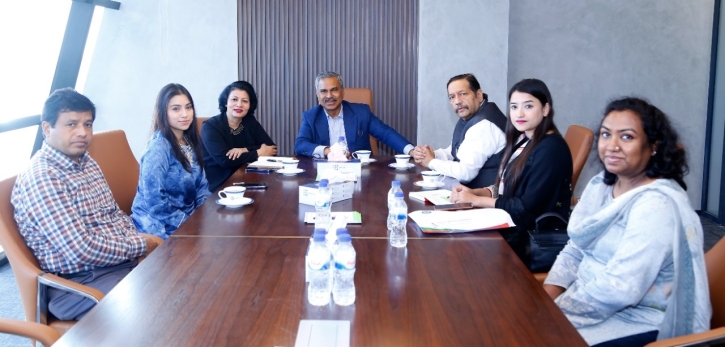 Photo: Courtesy
Closer direct business interaction between Bangladesh RMG manufacturers and Indian textiles, chemicals, dyes and machinery suppliers would help both sides to boost the trade growth.
Faruque Hassan, president of Bangladesh Garment Manufacturers and Exporters Association (BGMEA) said this after holding a meeting with the visiting team of India led by Atul Kumar Saxena, president of Indian Importers Chambers of Commerce and Industries (IICCI).
During the meeting, they discussed how the two associations can work together to pave the way for Bangladeshi RMG manufacturers and Indian textile, chemical and machinery suppliers to reap mutual trade benefits.
They also focused on possible collaboration between BGMEA and IICCI in creating platforms to bring businessmen of two countries closer for more business interactions.
Both the business bodies stressed the need for intensifying joint efforts to identify areas of mutual interest and ways to realise untapped potential that lies ahead of the two sides.
BGMEA President Faruque Hassan said that Bangladesh is aiming at pursuing the next level of growth in the RMG industry with high-end products mainly made of man-made fiber (MMF).
India has a strong textile industry to meet the demand, he added.
BGMEA Director Shehrin Salam Oishee and IICCI Vice President (RMG) Jannatul Ferdous Nipa were also present at the meeting held at BGMEA Complex on Wednesday.