Canada now a billion-dollar export market for Bangladesh
Jannatul Ferdushy || BusinessInsider
Published: 19:00, 21 May 2022 Update: 19:30, 21 May 2022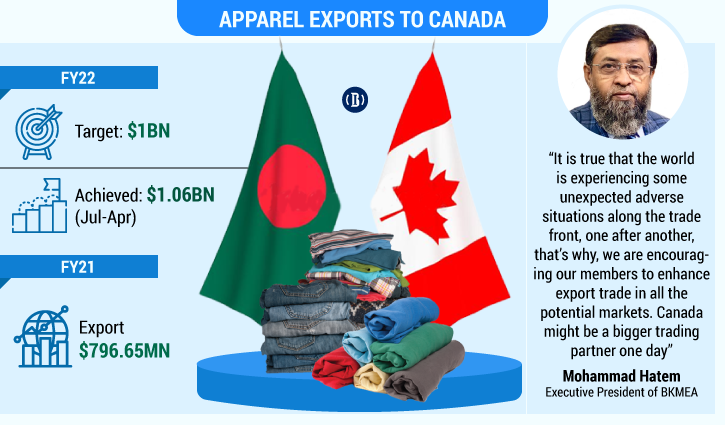 Graphics: Business Insider Bangladesh
Canada has become Bangladesh's billion-dollar import-trade partner. During July-April period of '22 fiscal year, Bangladesh fetched $1.06 billion from apparel shipments to Canada and achieved 33 percent growth year on year, according to Bangladesh Garment Manufacturers and Exporters Association (BGMEA).
In the last fiscal year (2020-'21), Bangladesh's total exports to Canada aggregated $ 796.65 million, BGMEA data shows.
The industry insiders had predicted in July '22 that exports to Canada would reach $1 billion at the end of the financial year. It turns out, in ten months the merchandise shipments accomplished the entire fiscal's target, exporters said.
"As in the last four decades Bangladesh built necessary infrastructure in the country, it became a reliable source for apparels. Therefore, exports have been constantly rising even amid Covid-19 pandemic. Moreover, we are also branding "Made in Bangladesh" in the world," Muhammad Hatem, Executive President of Bangladesh Knitwear Manufacturers and Exporters Association (BKMEA) told the Business Insider Bangladesh.
He further said: "It is true that the world is experiencing some unexpected adverse situations along the trade front, one after another, that's why, we are encouraging our members to enhance export trade in all the potential markets. Canada might be a bigger trading partner one day."
A top leader of Bangladesh Garment Manufacturers and Exporters Association, agreed.
"Together with the old partners, the exporters are enhancing their business with the new buyers, with whom negotiating higher prices is easy," said Shahidullah Azim, Vice President of BGMEA.
Some exporters said they are utilising full capacities of their factories to respond to higher orders.
"We welcome the new buyers because they are more flexible regarding price than old ones but this year most of the factories are booked until August. Therefore, we are unable to entertain any more orders. Moreover, we are observing the Ukraine war situation and supply chain," said Shahed Shuvo, a Merchandiser of Ananto Apparel Ltd.
Meanwhile, a number of garment manufacturers are expanding their factories so that they can entertain fresh orders from the new importing partners.
He anticipated that Canada, USA and the EU countries will increase their trade with Bangladesh in the next 20 years.
The export of April has increased by 56.31 percent, fetching $3.93 billion from the global market.