India-China bilateral trade crosses $125 billion despite rising rivalry
BI Report || BusinessInsider
Published: 19:15, 15 January 2022 Update: 20:43, 15 January 2022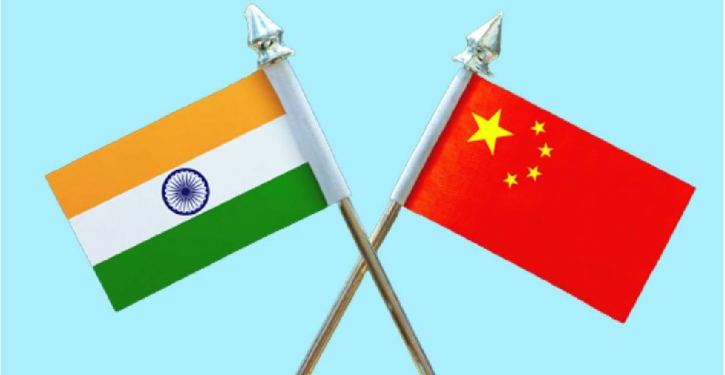 The flags of India and China. Representational Image. Photo: Collected
Growing India-China rivalry and the ongoing coronavirus pandemic could not reduce the trade between the two Asian giant economies – India and China.
According to data from China's General Administration of Customs (CGAC) released on Friday, India's trade with China in 2021 reached a record $125 billion-mark. Of which, India's imports from China were $97.5 billion, indicating high demand for Chinese goods.
CGAC data showed, the value of goods imported by India from China crossed the total bilateral trade in 2019. Trade between the two countries fell from $92.8 billion in 2019 to $87.6 billion in 2020 due to the pandemic. But trade rebounded strongly in 2021 as India's economy was recovering well.
According to CGAC data, India's imports in 2021 rose 30 percent from 2019, while its exports to China stood at $28.1 billion, a 56 percent rise from two years ago.
India's imports from China include electrical and mechanical machinery, active pharmaceutical ingredients and auto parts etc. India's exports to China were iron ore, cotton and other raw material-based commodities.
ASEAN, European Union and the United States of America were the top three trading partners of China in the last year. Of which, China's bilateral trade with ASEAN was $878 billion), with the European Union $828 billion and with the United States $755 billion.
Li Kuiwen, CGAC spokesperson, said China's medical exports were more than doubled in 2021, while laptops and home appliances were up 13 percent with growing demand.
As recent as 2020, India and China have been involved in several military skirmishes along its borders.
On 10 May 2020, Chinese and Indian troops clashed in Nathu La, Sikkim, leaving 11 soldiers injured.
Following the skirmishes in Sikkim, tensions between the two countries grew in Ladakh with a buildup of troops at multiple locations, resulting in the deaths of 20 Indian soldiers.
Later in June, the Indian government banned 59 widely used Chinese mobile phone and desktop applications in response to rising tensions and escalating diplomatic dispute between the two nations.
In August, Times of India reported that the ministry of external affairs of India has been told that visas for Chinese businessmen, academics, industry experts, and advocacy groups will need prior security clearance, and the measures are similar to those that have long been employed with Pakistan.
In October, the United States and India signed the Basic Exchange and Cooperation Agreement (BECA), enabling greater information-sharing and further defense cooperation, to counter China's growing military power in the region.