Demand for Indian, Pakistani products soars at DITF
Jannatul Ferdushy || BusinessInsider
Published: 09:34, 14 January 2022 Update: 12:10, 14 January 2022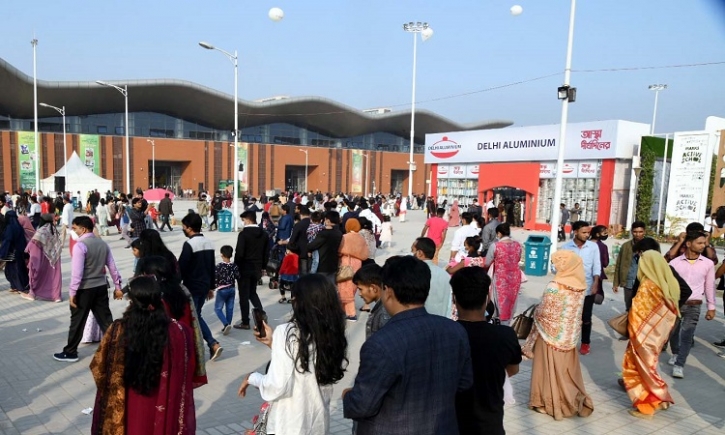 Demands for Indian and Pakistani products have been increased Dhaka International Trade Fair (DITF). Photo: Business Insider Bangladesh
Dhaka International Trade Fair (DITF) has become enormously popular among impulsive shoppers, especially those who love foreign products.
This time, demands for Indian and Pakistani products have been increased than Iranian, Turkish and Thai ones.
A good number of visitors thronged the fairground at Purbachal in the city on Thursday.
Many were seen improperly masked and were not maintaining social distances on the fairground. The fair authorities lack enforcement of Covid regulations.
Most of the women shoppers were gathering in front of Indian and Pakistani shops.
I come to this fair to buy uncommon foreign products. Compared to other countries' products, Indian and Pakistani goods are better. Thai and Turkish products are as usual. Iranian fabrics are also not that special, I think," Nasima Akter, a visitor told Business Insiders Bangladesh.
Another woman, Jahanara Juthi, said she has been used to having Indian products.
"I am used to using Indian products, especially their cosmetics and dresses. But, this year I bought a Kashmiri carpet at a cheaper rate. I think it's better than Turkish carpet."
She said, "due to cultural similarities, Bangladeshi women love Indian clothes. All year round, Indian products are sold in our local shopping malls, too. But in the fair we can buy the original products which come from India, directly."
Kamran Hasmi, a trader who has been joining the fair for the last five years from India's Delhi, said, "I cannot compare my products with other country's products. The demand for cheaper products has gone up. I think, after 15 January, demand for exclusive items will go up."
Muhammad Ibrahim, who came here as far as Kashmir, said, "Sales of Pashmina (lamb fibre) scarf is higher than shawls. But overall sales have fallen. A good number of people are coming but fewer are buying."
However, the venue has been moved to Purbachal as Agargaon fairground causes excessive traffic jams in the middle of the city and that it cannot accommodate traders properly.
Some 227 companies from 11 countries, including India, Pakistan, Turkey, Thailand and South Korea, are participating alongside Bangladeshi ones. There are 23 pavilions, 27 mini pavilions and 162 stalls in the fair.
Visiting hours are from 10:00am to 9:00pm and are extended by an hour on the weekends.
D