Simplifying trade process can boost exports to Russia: Tipu Munshi
BI Report || BusinessInsider
Published: 18:46, 6 December 2021 Update: 18:52, 6 December 2021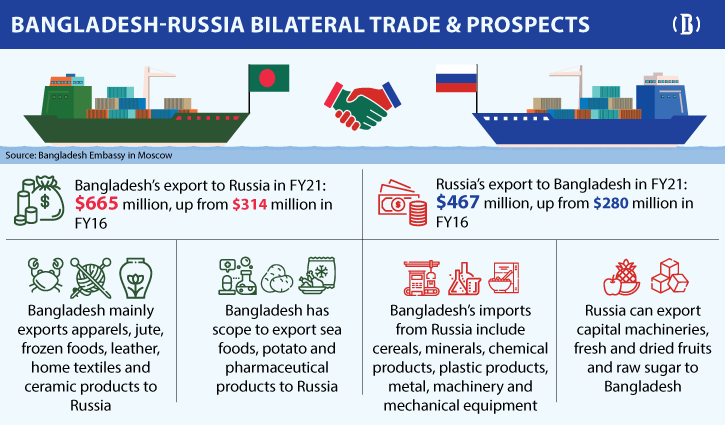 Photo illustration: Business Insider Bangladesh
Commerce Minister Tipu Munshi has said that trade and commerce between Bangladesh and Russia would increase further if complexities like double taxation and transaction through banking channels are eliminated.
The minister made the remark during an exchange of views meeting with the Russian Ambassador to Bangladesh Alexander Vikentyevich Mantitsky at his office at the secretariat on Monday, said a press release.
Calling Russia a long-standing development partner of Bangladesh, the minister said there is a lot of opportunities to increase trade with Russia, if both countries take initiatives.
"There is a huge demand for Bangladeshi products in the Russian market and Bangladesh wants to increase exports of goods to Russia," he added.
Bangladesh's export to Russia has more than doubled in five years. It was $665 million in the FY2020-21 financial year, up from $314 million in FY2015-16.
Also, during this period, Russia's export to Bangladesh increased by 67 percent. It was $467 million in FY 2020-21, up from $280 million in FY 2015-16
The commerce minister said the government is working to set up 100 special economic zones in the country, and the work of many of them are in the final stages.
Many large multinational companies have invested in these zones while many others are showing interest as the government is offering various attractive facilities to attract domestic and foreign investment, Munshi said.
He said the Russian investors will benefit if they invest in Bangladesh as the country is now a safe and attractive place to invest.
Bangladesh mainly exports apparel, jute, frozen foods, leather, home textiles and ceramic products to Russia.
Bangladesh has the scope to export seafoods, potato and pharmaceutical products to Russia.
On the other hand, Bangladesh's imports cereals, minerals, chemical products, plastic products, metal, machinery and mechanical equipment from Russia.
Russia can export capital machinery, fresh and dried fruits and raw sugar to Bangladesh.
Russia is implementing one of Bangladesh's largest ongoing megaprojects: the Rooppur nuclear power plant.
Russia is investing 90 percent or $12 billion in the power plant. It will be the country's first nuclear power plant, and the first of two units are expected to go into operation in 2023. The nuclear reactor and critical infrastructure are being built by the Russian Rosatom State Atomic Energy Corporation.
Earlier, in a meeting with State Minister for Power, Energy and Mineral Resources Nasrul Hamid Mantytskiy expressed interest to contribute to Bangladesh's energy security and deep-sea exploration activities.
Also, in an earlier meeting with Agriculture Minister Dr Abdur Razzaque, the Russian ambassador expressed interest in importing Bangladesh's mangoes the fruits have demand in his country.
On the other hand, Razzaque expressed his willingness to import DAP and Potassium fertilizer from Russia through government-to-government processes.