RMG exports: Bangladesh to secure runner-up, getting Vietnam past in 2021
Jannatul Ferdushy || BusinessInsider
Published: 09:05, 6 December 2021 Update: 11:25, 6 December 2021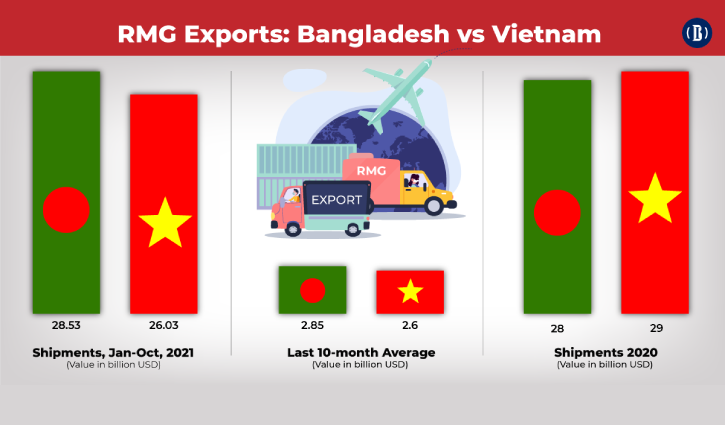 Bangladesh exceeds Vietnam in terms of total readymade garment exports this year. BI Infographics.
Bangladesh is on track to cement its position as the second largest exporter of readymade garments after the mighty China.
Data released by respective governments show, Bangladesh's RMG exports $2.5 billion higher than that of Vietnam in the first 10 months of 2021.
According to Bangladesh Export Promotion Bureau (EPB), the country fetched $28.53 billion from apparel shipments during January-October period, while Vietnam's export stood at $26.03 billion, according to its customs IT and statistics department.
"Because of restriction over covid-19 at various global ports in 2020, Bangladesh lagged behind in accomplishing its second position but this year, I hope, we will retain the runner up position again as the lockdown is gone," Shahidullah Azim, Vice President of Bangladesh Garment Manufacturers and Exporters Association (BGMEA), told Business Insider Bangladesh on Sunday.
He said: "But it will be too difficult for us to sustain the glory if we don't go for product diversification soon."
He insisted that Bangladesh has to understand the global fashion trend to sustain in the global apparel market.
Currently, the ready to wear industry exports only five informal clothing made of cotton fiber. But, in the last 10 years, demand for the cotton fabrics has been declining continuously. Therefore, the apparel industry needs the government policy support to make a leap to the world of highly demanding manmade fiber fashion.
Selling $29 billion worth of apparel merchandise to the world in 2020, Vietnam snatched away the crown of Bangladesh's second position. Last year, Bangladesh's exports were valued at $28 billion.
Fortunately, Bangladesh has earned more than $28.5billion in the last ten months. However, the country fetched $2.85 billion a month (on average) as against Vietnam's $2.6 billion.
In the last three months of the current year, Bangladesh has been earning more than $3 billion per month. In September, the export recorded $3.41 billion, in October $3.56 billion and in November $3.23 billion, respectively, EPB data shows.
"Bangladesh's garment industry should graduate technologically. And, this is not possible overnight as the largest export industry needs a prudent roadmap to that end," said Mohammad Hatem, First Vice President of Bangladesh Knitwear Manufacturers and Exporters Association (BKMEA).
The apex trade bodies are lobbying with the government for a 10 percent duty free facility on the shipment of manmade fabrics clothing.
Bangladesh's apparel fetches about $35 billion annually by shipping mostly trousers, T-shirts, skirts/ blouses, innerwear and sweaters.